At the recent Retail Bank and Card Forum shows where a colleague of mine and I were speakers, one of the recurring narratives was the emergence of Generation Y – also called Millenials. That's because this generation – the largest in history – is coming of age and entering their working life stage, when initial experiences and preferences for financial products and services are forged. At these shows there was a lot of talk about who the Millenials are and why they are significant. But there was very little discussion about how to actually reach them and engage them.  I would like to share a few factoids on the who and why and then I'll focus on the how.
Who They Are
Who they are pretty straight forward and dramatic because it's just good old fashioned math. Gen Y is composed of 85 million people born between 1981 and 1999, even larger than the 75 million Baby Boom generation, which had a profound impact on society, culture and commerce.  Gen Y will create more marketing challenges than the boomers, but also greater opportunities as their sheer numbers will be the driving force of U.S. commerce for the next 25+ years.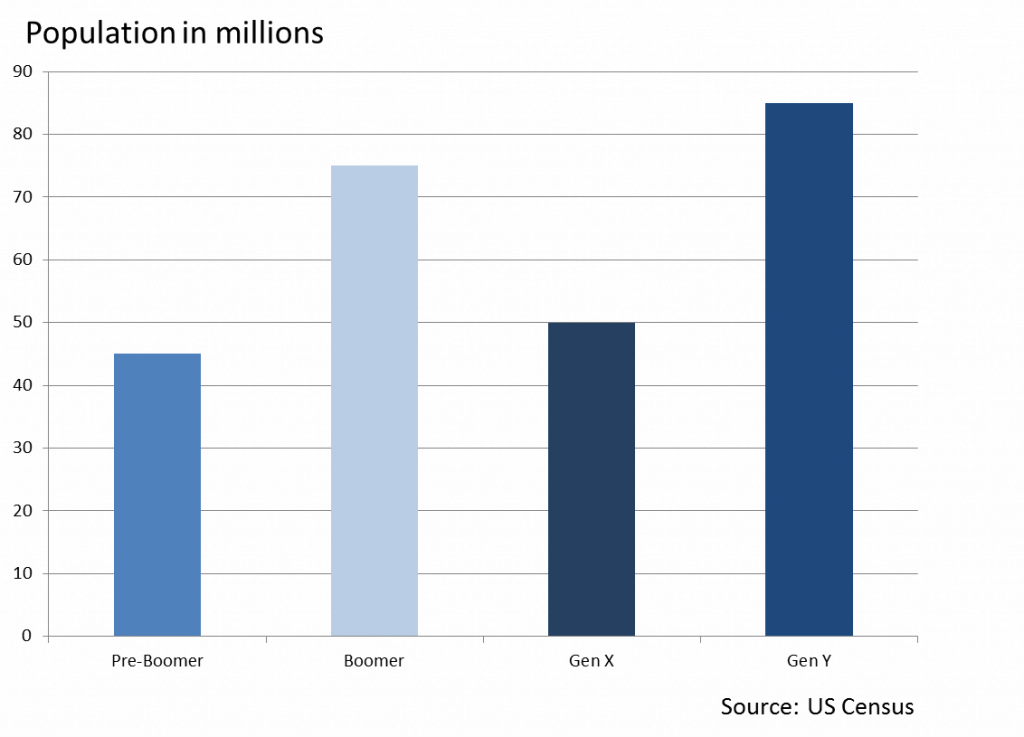 Why They Are Important
They are important for financial institutions (FI) because they are already streaming into the early stages of financial services education and usage, and they are the future. Baby boomers are long past their formative years of needing basic banking and lending products and are now focused on wealth investing and management. The vast majority of a FI's new customer opportunity for early life-stage products and services exists within the Gen Y segment.
However, from a marketing perspective the task of reaching this generation is daunting as their behavior is enmeshed in new media and channels that didn't exist just a few years ago, with more channels emerging all the time. Gen-Y is a multi-channel user and financial services providers need to create a consistent, unified experience across channels.
Think about this when it comes to branch innovation. Banks need to provide Gen-Y with special mobile apps and offers that would attract them to the branch, which they are not naturally inclined to frequent.  For instance, a customer might want to get advice at the branch, while they apply for loans and make payments online, and check balances on their mobile device.
But before you can serve these customers you first need to find and engage them. The most efficient way  – in fact likely the only way – is to go fishing where the fish are. For Gen Y, and increasingly for Gen X and Baby Boom consumers as well, that is in a combination of new and old media – with a heavy emphasis on digital social media.
When one studies the media consumption by generation one is quick to see just how dramatically different the segments behave. The problem is clear: many companies are well versed in old media/marketing strategies that simply will not work with Gen Y. Reaching them on their home turf will require rethinking and re-tooling capabilities of even the most sophisticated consumer financial marketers. Unfortunately, many marketers today are still analog-oriented with little proficiency in true 1:1 digital marketing.  As an old military expression goes – many organizations are perfectly prepared to fight and win the LAST war, not the one they're in now! But this is beginning to change…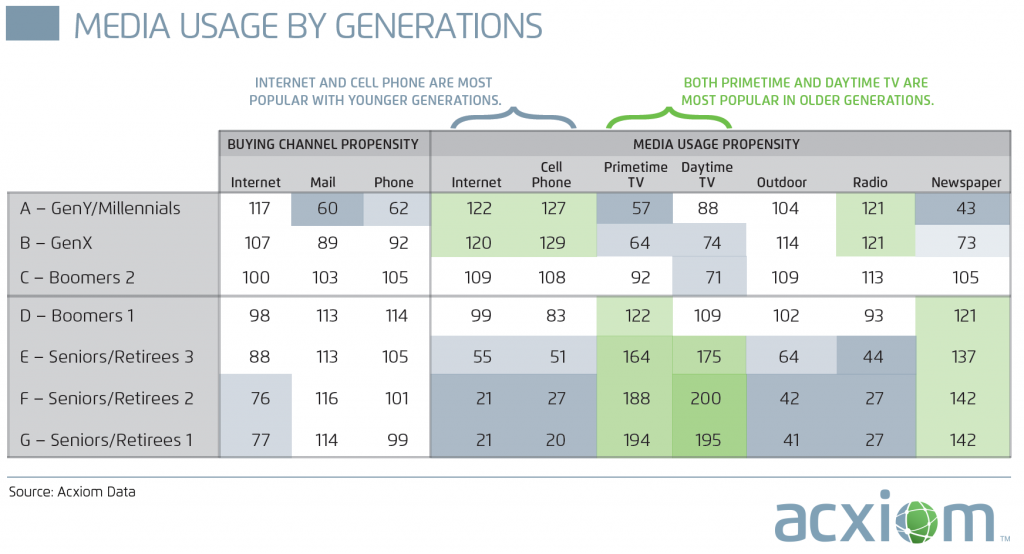 How to Connect With Them
Interestingly, as the opportunity to attract new customers becomes more Gen Y centric and other generations become more demanding of a multi-channel experience too, we find that many of the leading marketers in Retail Banking and Cards & Payments are actively building/improving their capabilities in areas that have a tangible impact on their ability to connect with consumers on a 1:1 basis. At the center of all these activities is acumen in obtaining, storing, visualizing, analyzing and acting on data insights in order to ultimately reach and affect a relationship with a consumer.
Before pursing gap-filler solutions, we recommend conducting a customer opportunity analysis to understand who the target customer is, their economic/demographic attributes and what their potential lifetime value is to the enterprise. Hence, what it is worth to the enterprise to market to, obtain and serve these customers? With that insight in hand, it is possible to investigate specific technologies that will allow financial marketers to enhance their 1:1 capabilities.
Not every financial institution is in the same place in its ability to communicate 1:1 with its prospects and customers, but the rise of Gen Y and the changing behavior of fast followers among Gen X and Baby Boomers create an opportunity for those who are poised to act. It's not a matter of whether or not these capabilities will become a necessity, but whether you or your competitor will gain first/early mover advantage. Knowing what capabilities you need to have and finding ways to quickly fill whatever gaps you have is a good way to get started on your journey to capture and serve profitably this rapidly changing market.
If you are interested in seeing how your company stacks up to other leaders in your industry, take 5 minutes to complete the assessment on our Maturity Model CheckPoint!