International Women's Day is March 8, and some are questioning why we need such a day. We make up just over half (50.52%) the population of the U.S.,1 and you see us everywhere, in every occupation from traditional roles like nurses and teachers to CEOs and firefighters. But there are things that make life harder for women.
We pay more. 
Yes, we pay more for everyday items, so often it's called a "pink tax."  The same item in pink, or labeled as it's for women, is more expensive.  Even on sale, the pink version of this calculator is $1 more expensive.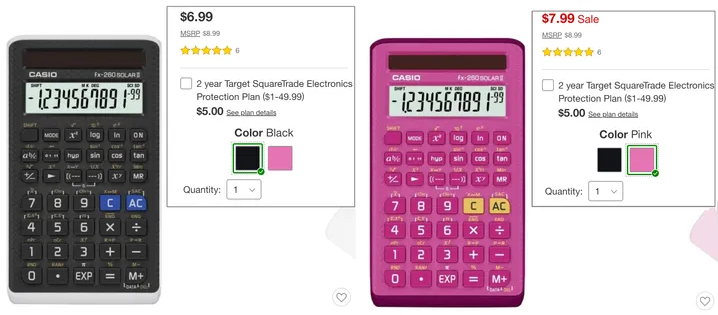 In 2015, the New York City Department of Consumer Affairs did a study3 on the price women pay for nearly 800 items and found that women pay 7% more across all categories and 13% more for personal care products. We also pay more for cars (on average $200 more, per CBS News and Edmunds)4.
We are paid less. 
According to the U.S. Census Bureau5, the average gender pay gap in this country is 17.7%, meaning women on average get paid 82.3% as much as our male counterparts.  That gap can be amplified by industry, job role, years of experience, and discrimination.  The gender gap is more significant for most women of color as seen below with the larger wage gaps reflecting the compounding effect of gender and race bias on their earnings.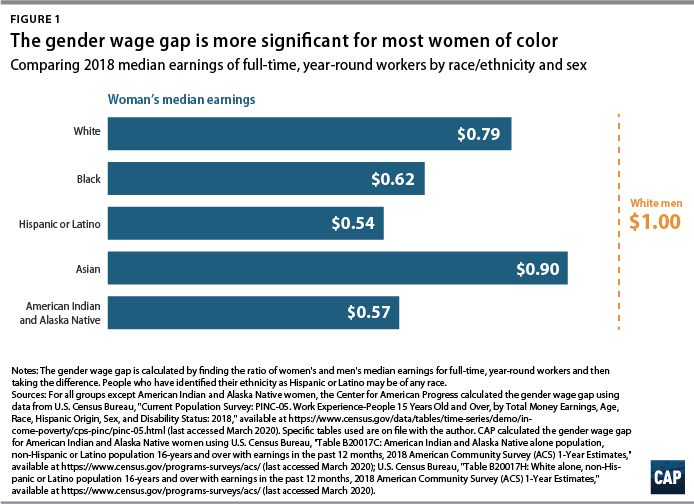 We often do more.  
Women are often the primary caregivers of children younger than 18 with an average of 3.55 hours a day spent on childcare activities compared to men at 1.8 hours a day.7  For those of you bad at math, that's almost 50% more time and more than likely a lot more brain power related to those tasks – planning, coordinating, shopping, etc.  And it gets worse, as 12% of families with children are also taking on elder care responsibilities as well, according to the Pew Research Center. 
We are victims of violent crimes. 
Talk to the women in your life and you will quickly find that we have reasons to be afraid of the other half of the population.  Nearly 2 million women are assaulted each year in the United States, and more than half of women will be physically assaulted during their lifetime.8  I'm one of those women who has been raped.  So now there are certain things I don't allow myself to do for fear of being attacked – hike alone, walk my dogs in other neighborhoods, go to the store late at night, etc.  It's sad that instead of changing society, we change ourselves for protective purposes.
What can be done.
Do your research. Women who knew the estimated cost of auto repairs were treated fairly and with more respect than those who admitted a complete lack of knowledge, according to the Journal of Marketing Research.9
Know your worth. Resources like GlassDoor.com and Salary.com can help you learn what the range is for a similar role.
Share the work. Most people and partners do want to help share the burden. They don't know what to do and often feel shut out. Communication and not judging when it's not the way you would do it can make both partners feel more valued.
Report crimes, and raise men who care about women. Contact the National Sexual Assault Hotline or local police. Offenses must be reported to save others. Raise your children, especially your boys, to respect everyone.
It's not all bad being a woman. My father asked me years ago if I had a choice to be male or female which I would choose. My immediate response was, "What year is it?" I'd much rather be female today than 100 years ago. We're making changes and breaking glass ceilings. We are women, hear us roar!
1 https://www.statista.com/statistics/737923/us-population-by-gender/
2 https://www.huffpost.com/entry/pink-tax-examples_l_5d24da77e4b0583e482850f0
3 https://www1.nyc.gov/assets/dca/downloads/pdf/partners/Study-of-Gender-Pricing-in-NYC.pdf
4 https://www.cjponyparts.com/resources/men-vs-women-car-buying
5 https://www.census.gov/newsroom/press-releases/2020/income-poverty.html
6https://www.americanprogress.org/issues/women/reports/2020/03/24/482141/quick-facts-gender-wage-gap/
7 https://www.bls.gov/news.release/atus.t09.htm
8 http://www.idph.state.il.us/about/womenshealth/factsheets/viol.htm
9 https://www.forbes.com/sites/hbsworkingknowledge/2017/04/05/for-women-especially-it-pays-to-know-what-car-repairs-should-cost/?sh=768d2895b59bps://www.cjponyparts.com/resources/men-vs-women-car-buying