As we accelerate out of the COVID-19 pandemic, certain realities are emerging that will affect how financial services companies get back in the credit game. With bank lobbies closed or on limited hours, people learned to rely on digital banking tools for day-to-day tasks. But even as people get back to pre-pandemic normalcy, it's unlikely they will abandon their preference for digital engagement.
For lenders, this means direct mail, the traditional customer acquisition workhorse, needs to be amplified and enhanced with email and digital tactics to ensure the lending offer is seen in as many places as possible. But more importantly, lenders need to think beyond these "push" tactics and take action on customer and prospect signals when they're interacting with their brand.
The goal of being able to offer the best and most appropriate product to a customer or prospect, at a time when they're thinking about banking and visiting the bank's website, has been a significant technical challenge for most banks. Whether they're constrained by their marketing stack or their internal resources, getting to this level of personalization is difficult.
What does it take to be able to do it?
Ability to identify the site visitor at the individual level. Third-party cookies aren't individualized and cannot be the mechanism to make a prescreened offer. Identification using a first-party graph that brings personally identifiable information (PII) and other digital identifiers together is the key to true individualized personalization.
Ability to activate an offer in real time. The connection of the identified visitor to an offer meant specifically for them is a use case that touches three critical pieces of technology: the customer data platform, the first-party identity solution, and a real-time offer repository or data store.
Ability to integrate and unify many data sources, from CRM data to third-party data, to transactional data.
Ability to measure the effectiveness of the personalization strategy. For this, an environment that compliantly brings on- and off-line data signals and events together is critical.
Personalization-enabling technology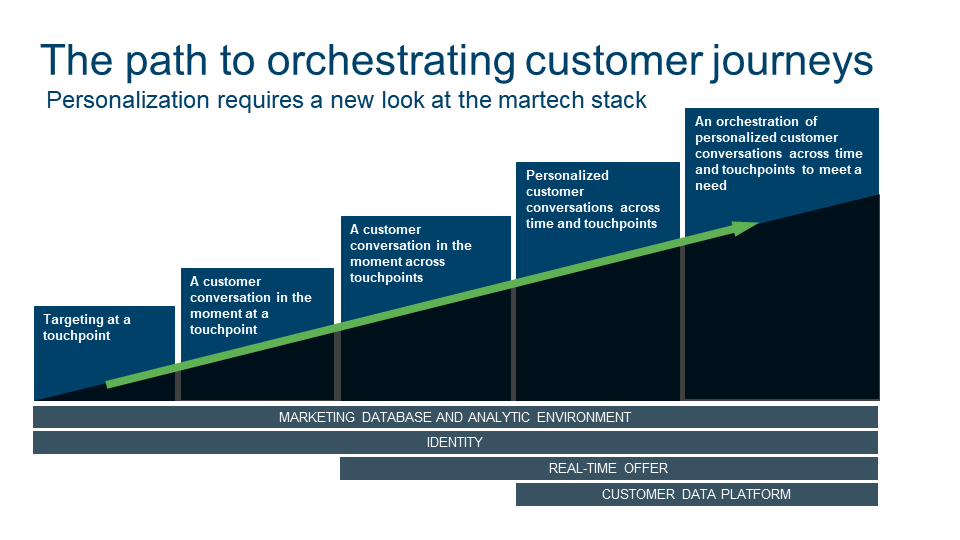 Bank marketers are examining their investments in the tech stack and evaluating which additional pieces are needed to enable personalized strategies. When considering first-party identity solutions, they are finding that the benefits extend beyond simply delivering better personalized marketing experiences.
First-party identity solutions enable enterprise identity resolution. This breaks down the silos between product lines, delivering a true 360-degree view of the customer. The solution treats each product view of the customer as a key, with the first-party identity graph as the master key ring. And it's not limited to customers; it can and should include prospects who are being targeted in acquisition marketing.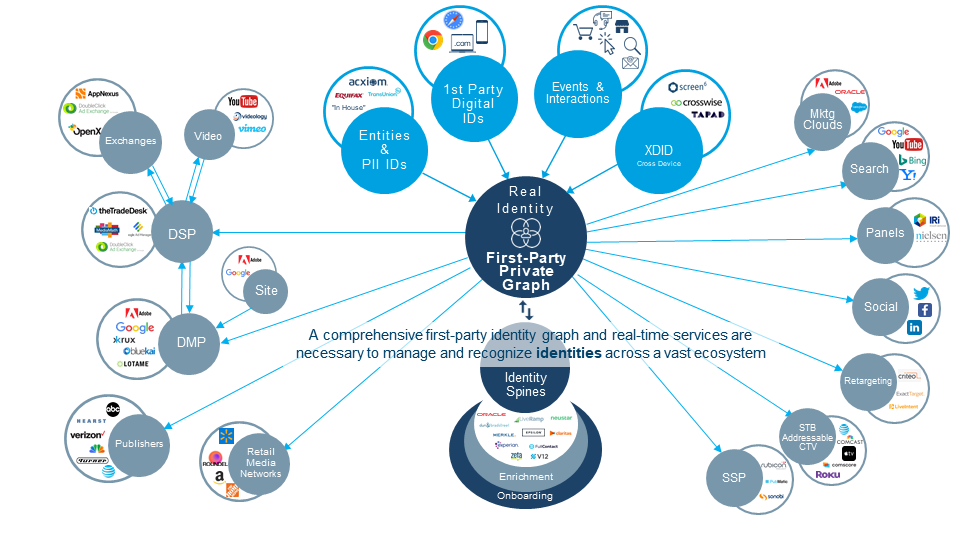 Acxiom can help bank marketers prioritize use cases and build a roadmap to unlock personalization strategies that will help drive growth. By leveraging first-party identity solutions, marketers will have future-resilient tools that are impervious to the changes being driven by "big tech" in the marketing ecosystem.
Email us today at info@acxiom.com to set up a custom workshop and start your roadmap.