The NHL's Florida Panthers may have won their season opener against the Philadelphia Flyers 7 to 1, but when it comes to selling tickets, they won even before the puck hit the ice.
The Panthers organization was passionate about using data and technology to deepen fan engagement, build loyalty and find new revenue streams. They knew they had to deliver relevant and timely offers if they want customers to engage with the brand. This required uniting the data they had, often from disparate systems, enhancing it with a rich data set, such as demographic and brand affinities, and then targeting custom messages to a variety of audience segments.
Working with a company called Umbel, an Acxiom partner, the Panthers developed a better, more actionable profile on their fans. They completed 360-degree views for over 100,000 fans and ticket buyers, essential for understanding their customers and creating high-value segments. Umbel then used these data insights to develop look-alike algorithms, helping the Panthers find new fans more efficiently than any other platform.
"Within a week, we integrated all their data, appended demographic information, created segments and started driving revenue," said Trips Reddy, Customer Marketing Manager at Umbel. "We had to turn it around quickly with the ability to unite, enhance and segment data in real time."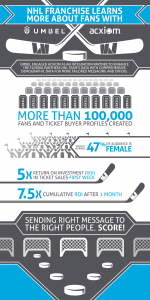 There were some surprises. In fact, the Panthers had a higher percentage of females within the audience, about 47% female, than previously imagined. This enabled them to created custom messages for these individuals.
Umbel and the Panthers were able to see time to value quickly. In the first seven days, ads drove a 5x ROI in season ticket sales. After a month, the franchise went on to achieve a 7.5x cumulative ROI, which far exceeded the company's goals. And today the Panthers continue to sell thousands of tickets while targeted the right messages to the right people. And it all goes to show; with the right partners, it pays to get in the game.
Click here to watch Greg Brown, Chief Revenue Officer at Umbel, explain further.