Online advertising works.  This shouldn't be a controversial statement, but it is. One reason for skepticism is that as consumers, we're not very enthusiastic about banner ads.
In fact, online advertising using banners is just about the least trusted form of advertising there is.  In the chart below, drawn from a global consumer survey, banner ads come in second to last among roughly twenty ways of learning about products.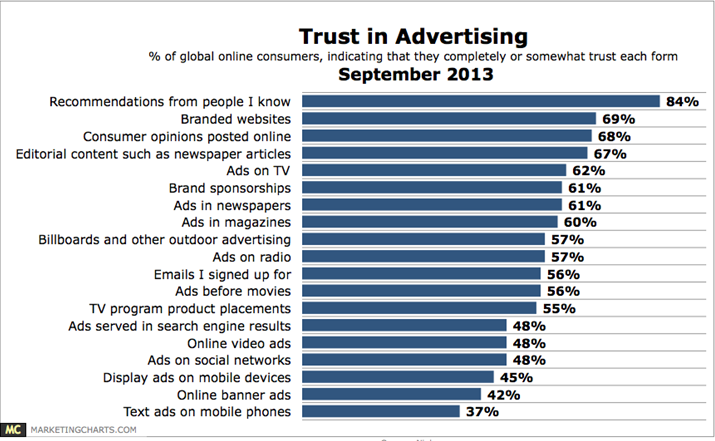 Despite this skepticism, there is widespread evidence that banner ads drive increases in consumer purchases.   Nielsen, Comscore, and others have published studies documenting the effectiveness of online ads in influencing consumers to purchase consumer products in stores based on ads promoting the products.  Nielsen Catalina study
This week Acxiom added one more grain of sand to the scales in support of online advertising effectiveness, and specifically the use of banner ads.  We published a case study profiling a retailer who got great results from banners targeted by Acxiom through one of our Premium Publishers.
This retailer wanted to target customers who hadn't bought from their store or website in a while.   We matched their customer list to the active users of their preferred publisher, and enabled ads that were targeted directly to these people when they visited the publisher's site.  The selected consumers responded by buying lots of products from the retailer, both online and in stores. Acxiom's post campaign measurement was able to demonstrate that the retailer realized 10 dollars in sales for every dollar spent on advertising during the campaign.
So here's a clear success story, a demonstration that banner ads, whether trusted by consumers or not, can produce results for marketers. The truth is, people may not enjoy banner ads, but they are influenced by them.  And, though incremental revenues ten times greater than the cost of the ads may sound too good to be true, that level of outstanding performance is in fact pretty routine for Acxiom's clients using our Audience Operating System.
Because online ads can be targeted precisely to some individuals, and withheld from others, the effect of banner ads can be measured with scientific precision.  And with Acxiom's Audience Operating System, our clients are now able to run campaigns with this type of precise targeting and measurement with ease, across publishers of all types and sizes.  Mobile too.
In fact, next month we will be releasing some results that demonstrate just how well banner ads work.   Acxiom has been targeting and measuring banner campaigns now for about 4 years,  It turns out that a 10x return on media spend is just about average for the campaigns targeted using Acxiom.   In that upcoming study, we'll talk not just about isolated success stories, but about how to systematically improve the results of advertising online.
The pattern is clear: Done right, banner advertising is a smashing success.
Soon, proving that online advertising works won't be worth the effort – everyone will know that.    But right now, it's still worth repeating.   10X return on ad sales.   Routine.