While some lucky people may still be enjoying the afterglow of a Valentine's Day romance, let's take a look at when the love comes, and when it goes away.
With a sample from our Audience Transitions database, we researched the most common transition months when people got married or became single in the last two years, and calculated the percentage of marriages and divorces by each month.
The results show that while May is the most popular month for marriage, and divorce happens mostly in January. Late summer, from July to September, is another peak time of transitions in marriage, both for marriages and divorces.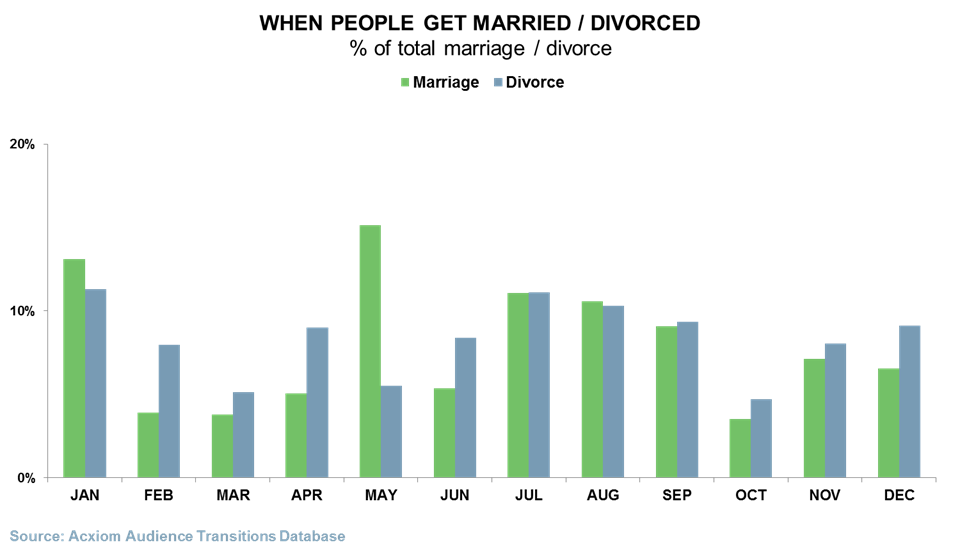 Other research also supports these monthly trends. The popularity of May and June as the months for weddings is widely known. XO Group Inc., the creator of the wedding website, TheKnot.com, reported that December is the most popular month to get engaged, and July to September are also very popular for weddings. In the meanwhile, statistics from eDivorcePapers.com reveal that January is the month when most legal divorces are filed. Psychologists think it may be because the holiday is over, and many people tend to resolve to do better and want a fresh start.
This sort of trend in marriage and divorce and the dynamics of relationships can change year over year. But as one of the most important transitions in life, marital status always has a high impact on your customers' attitudes and needs.