How do you stack up against your competition?
When I speak with senior marketing executives they are always curious about what their competitors are doing. While even the most seasoned executive is confidently charting the course for their brand, they always want to know what is happening elsewhere both inside and outside their industry. Some are looking for new ideas or perhaps validation of their own. Some find comfort knowing that it's not just their company that is struggling in certain areas of marketing proficiency. Whatever the motivation, a smart CMO has a vested interest in knowing what is happening in and around the brand they are leading.

Acxiom maintains a normative database (NDB) of marketing capabilities, which allows us to establish industry benchmarks, mine for insights, and chart the evolution of marketing over time. As a leader in data-driven, direct-to-consumer marketing, it enables Acxiom to keep its finger on the pulse- understand where direct marketing presently is and where it's headed. We also use the NDB in concert with our patent pending Marketing Maturity Model to provide unique insights for our clients' use in defining strategies, roadmaps and achieving measured capability improvements against stated business objectives, targets and key performance indicators.
This is the opening blog of a monthly series dedicated to observations and trends from many industries and categories to present the unique insights gleaned from our normative database.
Two of the more advanced marketing categories within consumer financial services are retail banking and cards/payments. They also represent domains of great expertise and innovation where players in less mature industries look to understand how sophisticated direct marketing is done. As they both have some similarities – and in some cases a card business sits within a retail bank – it's interesting to see the empirical data about them, their strengths and challenges. This is where our Marketing Maturity Model, powered by our normative database, shines. When asked what their marketing priorities are in terms of desired improvement, some overlap is apparent but there are some distinct differences as well. Here is a top-line…
Retail Banking
The Retail Bank data reveals two top priorities: Engagement Across Channels (EAC) and Single Customer View (SCV). EAC tells us that like most marketers, banks are challenged to engage and market effectively across the multitude of channels where consumers are to be found. This isn't really a category-exclusive challenge; it's a modern marketing challenge exacerbated by the continuing proliferation of marketing channels. SCV is a particular challenge in retail banking as most institutions offer an array of products and services that are organized and data-fed in business silos across the bank. Breaking down these data silos and enabling a full view of a customer's economic value based on all the products/services used across the enterprise is vital to making sound customer investment decisions in offerings, communication and treatment.
It's interesting to note that although it did not reach the threshold of a top-two priority – Consumer Connections (CC) shows up as one of six major pain points and ranked third in priority. You'll see below that it's a top-two priority in Card. Suffice to say that CC is recognized area of improvement with strong priority in financial services.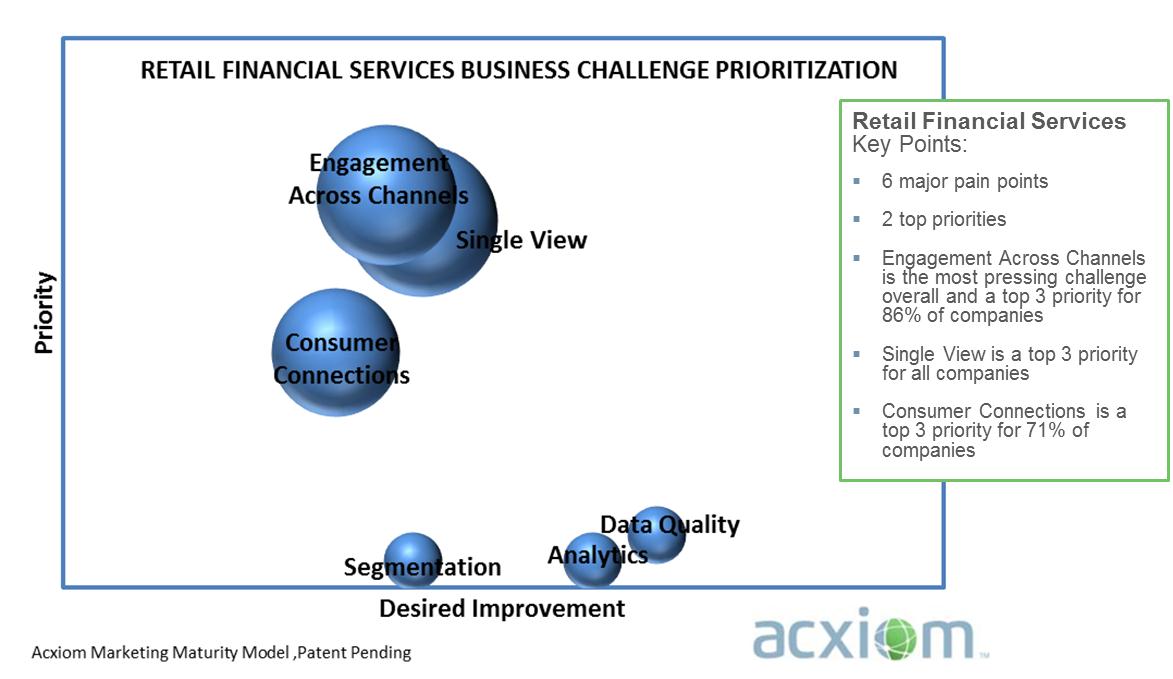 Cards & Payments
The Card data identifies two top priorities; Consumer Connections (CC) and Engagement Across Channels (EAC) which are two different but closely related things. CC is the strategic capability of identifying key customers/segments – finding the channels or combination of channels where they can be found and journey-mapping the optimal experience for them. EAC is the operational manifestation of CC. It's where strategic planning leads to actually reaching and engaging with customers in the way the strategy dictates. Proficiency in CC and EAC are both necessary as solid strategy is only as impactful as the operational execution that brings it to life.
The Takeaway
While these top-line findings may be surprising to some and confirming to others, one common denominator to all of these challenges is data. The ability to capture, store, analyze and act on data is the key to getting better at these foundational marketing capabilities. Some organizations are struggling with these issues and some are doing pretty well, but still want to up their game. If you found these macro industry insights of interest we look forward to you following this blog for trends in Banking, Cards, Insurance/Investments, Retail, Auto, Telcom and Media.
Soon we will offer a Marketing Maturity Snapshot tool – a quick, DIY online assessment available on this site. Stay tuned!