Omni-channel marketing, turn-key solutions, data-driven results and strategic partnerships. These are all go-to phrases for today's digital media buyer looking to find efficiencies coupled with measurable results to deliver key consumer insights within an ever-changing digital marketplace. Today, I will run through an introductory 101 look at the day-to-day process a digital media buyer must go through on behalf of an advertiser from an agency perspective and the necessity to create turn-key solutions via strategic partnerships in today's real-time bidding ecosystem.
To begin, a credible agency of record (AOR) must keep stringent processes and procedures in place to ensure they are accountable for the advertiser's media investment while being able to pass an audit to ensure transparency in today's marketplace. This requires a multitude of stewardship software systems and an independent ad-server to eventually invoice and track campaign spend monthly across preferred platforms and vendors. Once an advertiser's media dollars are won, an AOR must finalize its media plan and ascending tactics for client approval to ultimately resolve a company's underlying business issue, whether upper or lower funnel. This kicks off the media plan build-out process within the digital marketplace, whether the tech platforms being leveraged are publisher, vendor direct, programmatic, search or socially based.
According to E-Marketer and its study performed across Pathmatic's top 100 advertisers between 2016 and 2018, on average, agencies leverage between 4-7 demand-side platforms (DSP) alone.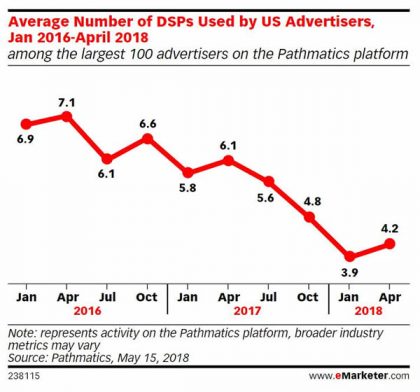 This number is trending downward as DSPs begin to consolidate across the industry. For the sake of this discussion, we will take the nice round number of five DSPs to create a picture of the overall programmatic media buying process. In general, most ad-tech platforms and publishers follow a very similar hierarchy regarding campaign set up; advertiser, campaign, ad-group, creative. For tech vendors within each platform, media dollars are recognized within the underlying campaign and ad-group levels. Our advertising efforts in this case will run across five DSPs, each containing five campaigns, which each have five underlying ad-groups with 10 creative assets rotating across each ad-group. To put that number in perspective, our advertiser will execute against 25 campaigns, 125 ad groups and 1,250 creative placements. Media spend, and campaign performance can be optimized at the campaign level by most platforms' algorithms easing the burden on the agency's analysts or account management teams.
To correctly optimize a platform's proprietary algorithm, an agency's analytics or web development teams will need to set parameters around the pixels that will be implemented within the HTML code of the advertiser's website. This enables the platform's algorithm to inform the campaign and ad-group to optimally bid against the most valuable consumers for the business case being activated against in the marketing funnel.
Within the real-time bidding process, industry participants add value between the raw supply source and the consumer. In the advertising industry, this value chain increases the value of an ad impression (supply) through the application of additional data, targeting, real-time bidding, dynamic pricing, and other additions that make the impression more valuable to the marketer. This value is continually tested and proven via higher-performing campaigns that command a premium price to the marketer. As in any industry value chain, some participants add more value than others, and as an open market, the higher performers over time get rewarded, and the lower performers get optimized out of the system.
The client approval, campaign build out and website pixilation processes can take two weeks for an AOR to correctly manage depending on its team size, complexity of the client's website and business objectives, against which success is being measured . All this is occurring while media teams are further managing advertisers that are active and new business that is coming in the door that needs to be won. This type of workflow is becoming more streamlined over time as advanced agencies begin to develop their own proprietary tech stacks, which connect their preferred media buying platforms – vendors and their respective, analytics, reporting, and financial stewardship processes, thus closing the loop across disparate systems within the digital marketplace.
Most recently, the Spring MarTech conference announced there are more than 7,040 digital marketing solutions in 2019, up from 150 solutions in 2011. On average, according to the Society of Human Resources, "most stable professional jobs have turnover rates of 8%-10%, whereas the advertising industry experiences nearly 30% turnover rates." It is no wonder that recent e-marketer publications and Interactive Advertising Bureau (IAB) research has shown clear agency demand to establish key strategic vendor partnerships, which can provide invaluable insights throughout the media buying value chain and ad-operations processes, thus reducing the number of intermediaries between investment and consumer within the digital value chain.
"In April 2018, IAB and Advertiser Perceptions surveyed 119 U.S. media decision-makers and found that roughly 30% of respondents preferred to build tech or do ad ops in-house. The rest of the respondents said they either work with a partner or would prefer to work with a partner for tech and ad ops."
Given the complexity and high turnover rates within the industry, it is essential for vendors to establish true strategic partnerships with both their demand and supply side platforms and agency buying counterparts. By providing full consultative services that enable turn-key solutions, agency media buyers will eventually be able to truly optimize across their preferred platforms and vendors of choice in near real time. As an advanced agency's proprietary tech stacks continue to evolve and assess the top performers within their media plans and the overall digital value chain, those that achieve the needed objectives will continue to be a part of the mix and strategic partnership. Whereas, those who do not will be optimized out in real time to justify media investment while establishing transparency across the ecosystem.