According to a retail study Acxiom recently conducted in collaboration with GfK Research- New York, the answer is yes, media absolutely plays a part – for some. We asked a random sample of 1,000 female consumers age 18 and older who had purchased women's apparel in the past six months to complete a 20-minute online survey. We found 5 main groups of shopper attitudes:
Fashionistas:
Younger, hipper…the most actively engaged apparel shoppers. They like clothes, are more fashion-forward than most and love to shop – often!
Style-Sophisticates:
Seek nice apparel, placing fashion ahead of more practical considerations. Nice clothes equate to "the good life," so they plan their wardrobe carefully.
Centsibles:
Think of apparel as being something they need. They prioritize comfort, value and price.
Different-Drummers:
Most basic apparel shoppers. They don't mind shopping for themselves but shop based on need rather than desire.
Disinteresteds:
Consider clothing a necessity and shopping for it a chore. They shop for the basics of comfort, value and price.
The different groups use media, and are influenced by media, very differently.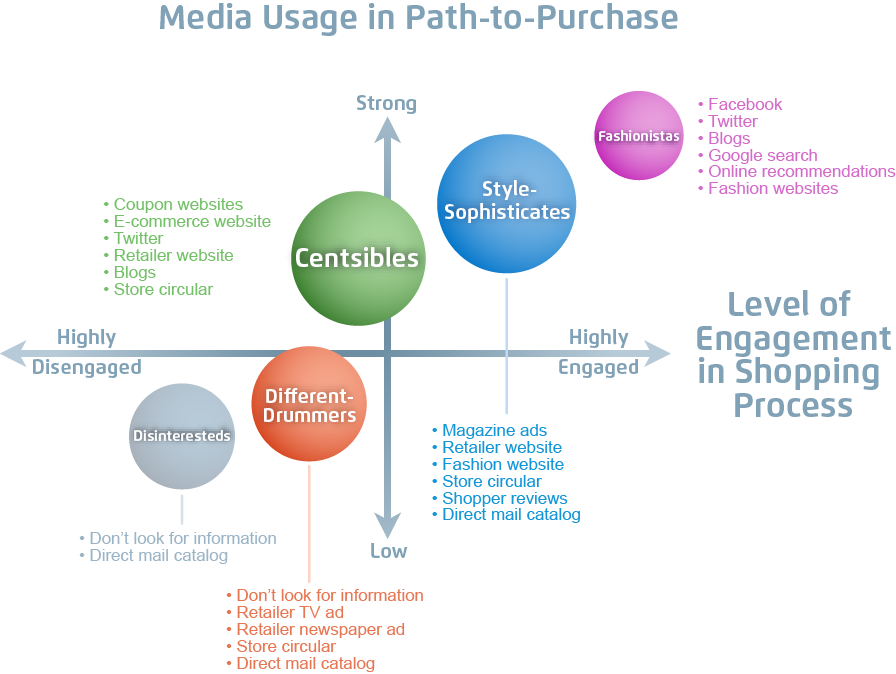 Do you know the attitudes of your best customers and prospects? Check out the full report to learn more about shopper attitudes, channel preference, and more!