While the group of affluent Americans is considered to be a major purchasing power in the market, the group of rising affluent makes for an excellent target. Research shows that the 'new rich' makes up 10 percent of households and accounts for nearly 40 percent total consumer spending. With increasing spending power and growing needs, the rising affluent will be your best consumer-to-be.
Who are the rising affluent?
Generation X
Generation X, those who grew up in the prosperous 1980s – appear more likely to be the rising affluent, study shows. Acxiom's Audience Transitions data shows that during 2013, 35-44 years old and 45-54 years old were the top two age groups that had a growth in net worth, respectively 15.5% and 17.3% of them increased by a larger magnitude.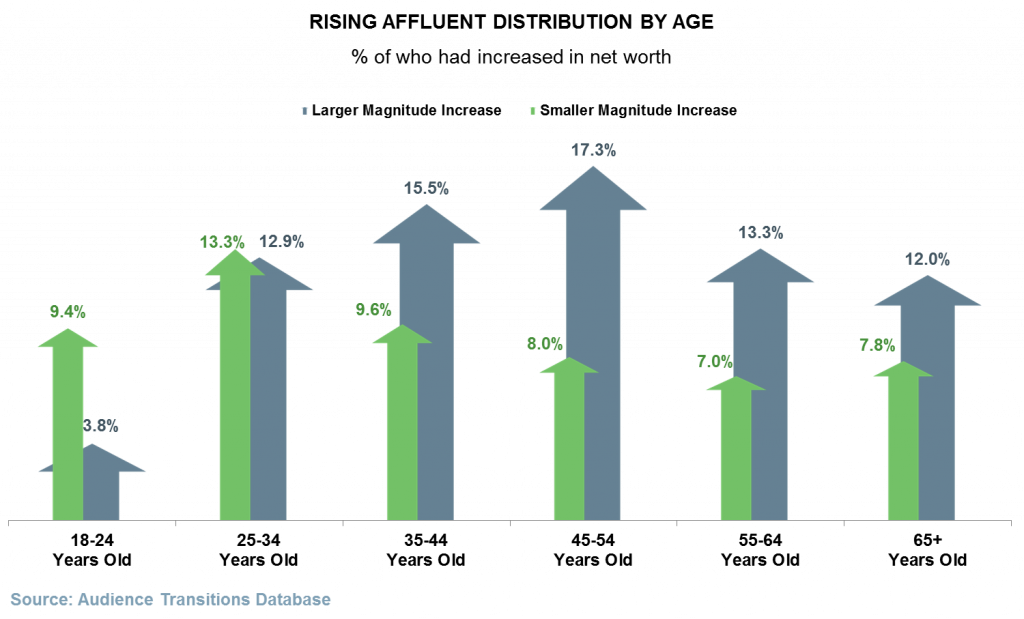 Active Lifestyle, Corporate Connections, Top Professionals, Active & Involved
During 2013, five percent of the study sample turned into the Personicx richest segments, Summit Estates and Established Elite. They mostly come from segments defined as Active Lifestyle, Corporate Connections, Top Professionals and Active & Involved. The four segments are mostly married, with school-age kids or no kids, living in suburbs and towns in their own house.