It's no surprise that people who change house spend more than normal. It's no surprise marketers want to know who's moving. But wouldn't it also be valuable to know who's downsizing and who's moving up?
Moving is one of the normal life transitions most people have experienced. In one study, we were able to combine credit card spending of those who changed their addresses with historical data* to analyze the impact of the move on spending behavior. We found that people allocated approximately 15% more purchases than usual on one credit card, mostly during the moving month and the following month. This represents a sizable opportunity for marketers, if the movers can be identified and communicated to effectively.

While the opportunity is obvious, time is critical. As shown in the graph, purchases begin drop off only two months after the transition. But importantly, if engaged at the right time with the right message, this short-term spending can be transitioned into long-term sales.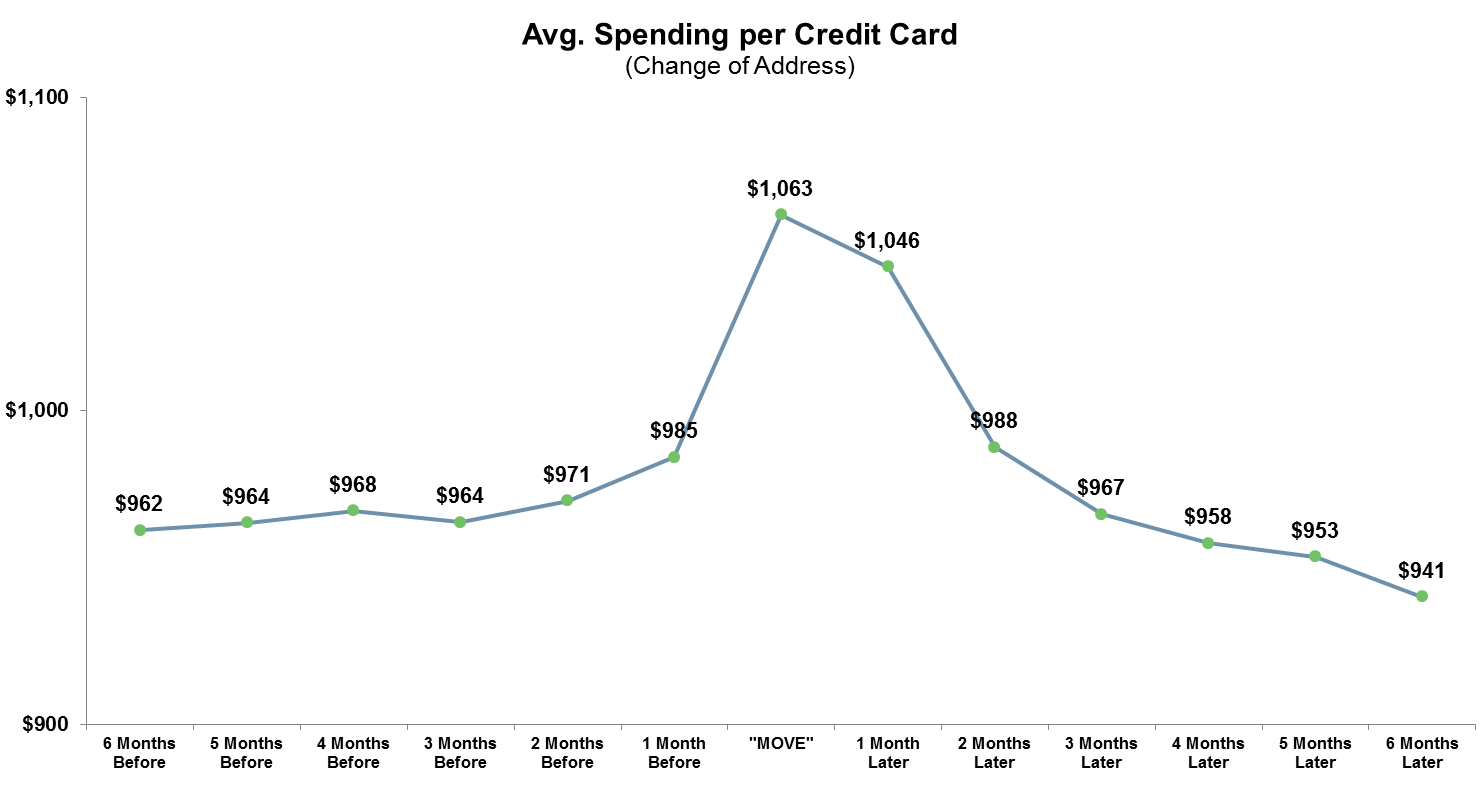 *Within the sample, people spend an average of $966 each month on each credit card.
What Movers Purchase
The table below lists the top categories that were significantly impacted by the move: movers spent 80% more than average on home furnishing and 60% more on home improvement during the move, and continued in the subsequent month. Household spending increased 80% during the month of move, and even more in the following month at 150% more than average. Categories like shipping services and car rental were also impacted by the transition.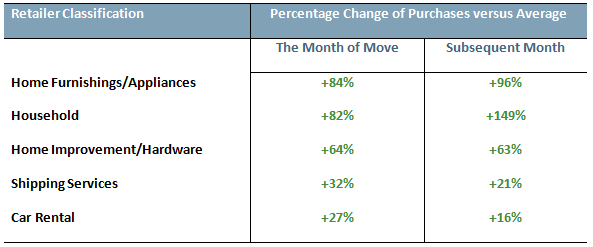 The Direction Matters
While overall a transition increases people's purchases in many categories, the impact varies – think about people moving to a bigger home versus a smaller home. If companies can identify the right targets, they can earn millions.
Let's look at one category that you may not think would be related to moving. The research shows that although purchases on children's apparel were not affected much by the transition on the whole, it was a different story when we segmented the customers by change of square footage.
We found that spending on children's apparel was below average for those who were downsizing, while those who moved to a bigger home spent much more. When moving to bigger homes, people tend to hold off the spending in the months leading up to the move, but make the purchases soon after the move, and mostly in the first quarter followed.

Coming soon with more insights and we look forward to your feedback and input. Thank You!
*Source: Acxiom's Audience Transitions Database