Imagine a world where authors can submit their electronic books online and with assistance from virtual editors make them immediately available to a set of readers.  The engagement of readers with the content can be analyzed in real time – is it a page turner?  How reading patterns compare to other successful books?  Are there unique subsets of audiences that engage particularly well?  Once a pattern is observed more like-audiences are targeted with direct digital marketing to determine viability and prove the hypothesis.  If confirmed, this fuels and optimizes the marketing engine and so on and so on.  Book tours are arranged and promoted with audience and geographic precision to maximize results.  Social media patterns are observed and integrated into cross-channel marketing campaigns.  ROI on marketing investment can be calculated with precision, the guess-work is largely eliminated.
Amazon is close to making this world a reality.
This world does not eliminate the importance of critics, the New York Times Bestseller list, and the deep engagement of star editors with authors.  But it creates a more scientific and objective environment that brings book publishing into the 21st century by leveraging a transparent dialogue with audiences based on data-driven audience insight.
Book publishers have been slow to respond to this opportunity, instead relying on their editorial might and closely knit relationships with critics and influencers as their core advantage.  Their ability to collect and act on customer insights is very limited.  Two factors constrain customer access.  First, the value chain has historically separated publishers from distributors and sellers, and the consolidation under Amazon has only reduced the publisher's power.  The second reason is the fragmented nature of the publisher business itself.  While there has been tremendous consolidation under several large publisher conglomerates, the individual business units continue to be very independent and lack the resources to scale marketing or collect consumer insights.
Many would argue that the lack of consumer insight has made book publishing more immune to commercialization of content.  However, many others would say that the closeness of the system is undemocratic and misses many opportunities to promote great content.  Regardless of the side you choose, business realties today demand that book publishers take the direct to consumer (D2C) connection seriously – the opportunities and risks are too great to bury your head in the proverbial sand.
It is an exciting time, because book publishers can finally take actionable steps to address their D2C challenges…
Direct Customer Insight through Book Apps
One of the great challenges for book publishers is that e-book distributors control access to consumer insights.  While Amazon (through Kindle) has a great understanding of consumer engagement, little of this data makes it back to the actual publisher.  The attempts from book publishers to develop their own readership have largely failed.  Even simple data connecting consumer IDs is not frequently shared.  One interesting way book publishers could regain control of consumer insights is through apps.  Book apps can deliver deep insight into user engagement.  Practically every user action can be tracked.  One can answer the question, is the book a pager turner, but also much more.  Further interesting considerations can be related to the content presentation and author franchise development.  Publishers can embed interviews with authors, comments, and so much more.  Interestingly, magazine publishers, whose book businesses are struggling, now hold a new power through their magazine apps. This can create even more industry momentum.
Consolidated Customer Databases in the Cloud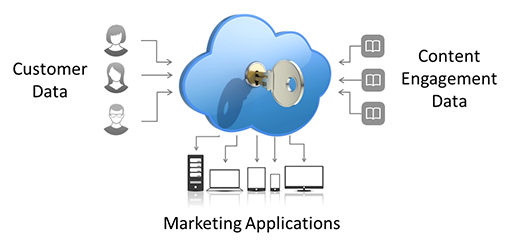 The capability to capture consumer engagement data and insights also unlocks new use cases to create the ROI required to build large consumer marketing databases for book publishers.  One of the reasons their consumer marketing data has been siloed is the complex, cumbersome and costly nature of the available solutions, preventing widespread adoption. Individual imprints require simple and intuitive solutions, and consumer marketing infrastructure traditionally has been expensive and anything but intuitive.  New cloud solutions are making both access and interaction with consumer data easier.  Book publishers have an opportunity to create a tremendous asset by pulling together the pockets of data that exist in hundreds of places across their companies to apply it with precision and consistency.
We at Acxiom think that is the right time to reinvent how book publishers approach the D2C marketplace. By connecting consumer data with engagement data, book publishers will have the audience insights to transform not only how they market books, but also how they develop them. While we hope that books do not become programmatic – that will make for a dull new world – the ability to connect the right consumer to the right product is a proven recipe for driving value and sustained business success.