The life insurance industry is built on actuarial science. Companies leverage their expertise to manage risk, pricing and asset management – all of which ultimately determine profitability. More recently, firms are beginning to leverage their expertise to manage agent performance and improve marketing effectiveness.
Yet for all the actuarial brilliance pervasive across the industry, many life insurance marketers have failed to spot – and capitalize on – some very powerful demographic trends. So let's begin with some basics. The following chart shows how the U.S. population will age over the coming few decades.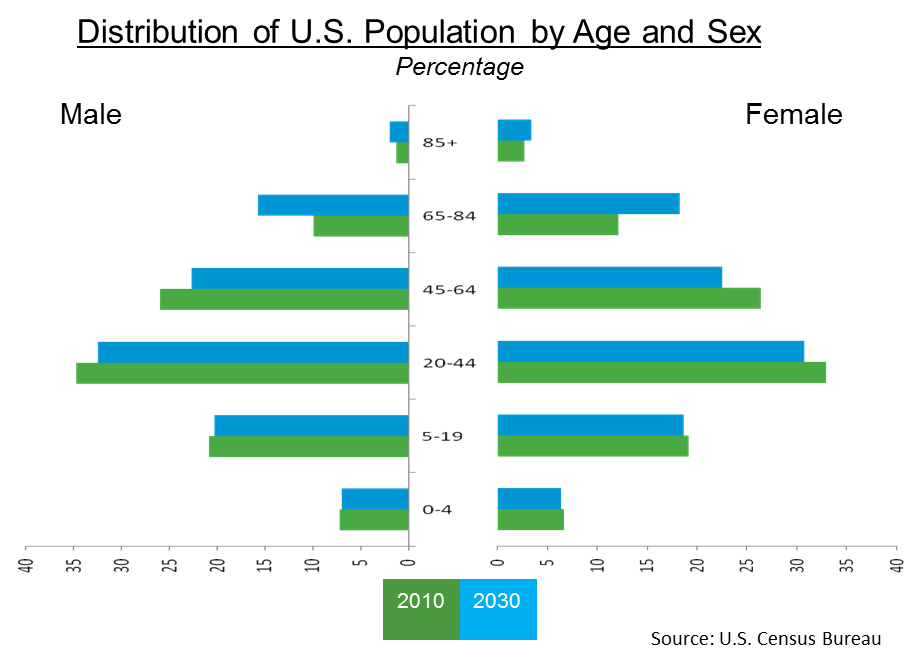 Clearly, there is a huge wave of Boomers and Gen Xers coming into the prime earning years of their life – which also creates a need for wealth management and insurance products. But the real story lies in the behavioral characteristics of these age groups. The following table shows the media consumption patterns of a similar generational breakdown (the values are indexed relative to the overall U.S. population).
Herein lies the rub for life insurance marketers. While most rely heavily on mass media channels such as TV and direct mail to reach consumers, the two generations – Boomers 2 and Gen X – that present the biggest sales opportunity for life and health insurance much prefer the internet and mobile devices as their primary channels for media consumption.
The marketing trends are clear:
Direct mail costs are increasing even as direct mail reach declines.
Newspapers are dying as the primary audience ages and younger audiences seek alternative sources of news and entertainment.
TV audiences are stagnating at best, splintering into hundreds of tiny audiences at worst.
Boomers are not a monolithic segment – they require sophisticated analytics to target successfully, particularly as they migrate to digital channels.
If your company is not aggressively pursuing a digital strategy, then it will be extremely difficult to target anybody under 45 years of age (and most people between 45-55).
Some life providers are taking tentative steps toward adapting to this new marketing environment. For example, AXA has recently partnered with Facebook to leverage the social media networks access to hundreds of millions of consumers around the world to drive customer engagement, digital presence and acquisition growth.
Yet more needs to be done, so we looked to our normative database (NDB) of marketing capabilities, which allows us to establish industry benchmarks, mine for insights, and chart the evolution of marketing over time. We use the NDB in concert with our patent pending Marketing Maturity Model to provide unique insights for our clients' use in defining strategies, roadmaps and achieving measured capability improvements against stated business objectives, targets and key performance indicators.
The following spider chart shows the results of Acxiom's marketing Maturity Model evaluation of the life insurance industry, compared to the life insurance industry leaders and the financial services industry leaders. Two critical themes stand out. First, the average life insurance provider is far behind the life insurance industry leaders when it comes to analyzing data to drive actionable insights, particularly for digital marketing and customer personalization. Second, even the life insurance industry leaders are far behind other financial services providers (such as credit card issuers) in terms of their ability to leverage data to improve the customer experience (see 1.2 Lifecycle Management, 1.3 Consumer Preferences and 2.1 Collecting Data Online/Offline).
As with many other industries, life insurance marketing is facing a tectonic shift as a result of demographic and technology related trends. This may or may not be an "Adapt or Fail" situation, but as you prepare your marketing plans for the coming year, ask yourself these questions:
Do our marketing programs differentiate customer segments according to their preferred channels, customer lifetime value and immediate life state needs?
Am I doing everything I can to move untargeted, above-the-line media spend to below-the-line targeted marketing?
Do I have the marketing and data infrastructure to compete against the best in my industry? Do I have the talent to compete?
Am I personalizing my marketing and customer experience to ensure relevancy, which in turn drives engagement across the entire customer lifecycle?
Are we driving a significant shift to digital marketing via search, display and social media?
Life insurance marketers have an opportunity to recreate an industry. Tremendous opportunity exists for the providers and their marketing partners to enable this transformation. Stay tuned for as we overview the health and P&C insurance sectors in future posts.
If you are interested in seeing how your company stacks up to other leaders in your industry, take 5 minutes to complete the assessment on our Maturity Model CheckPoint!