In marketing circles, we've been talking about customer experience (CX), the buyer journey and the path to purchase for a long time. We know these things matter to people. And by now we know these things make a material difference in people's perceptions of brands as well as their buying behaviors. In fact, the Harvard Business Review tells us that people who experience better CX spend 140% more, and the Forrester CX Index quantifies significant increases in spend based on improvements in CX in different industries.
So why is it that many brands still have significant challenges in delivering a seamless, cross-channel contextually relevant experience in real time, given all the evidence that suggests this is one of the most critical factors in deepening relationships and driving top- and bottom-line results? The answer is simple: it's harder than it looks.
In recent years, many brands have focused their efforts on creating, building and maturing their digital marketing capabilities, often with an emphasis on providing personalized CX to ultimately foster trust, develop affinity and deliver recurring revenue.
The use of data has been a critical way for brands to gain richer insights into their customers' preferences and intent, which can be used to tailor experiences. And much has been said about how the COVID-19 pandemic accelerated data-driven marketing efforts to advance brands' digital presence in response to restrictions on in-person contact – 10 years' worth of digital transformation in 10 months, or something like that.
Although many organizations have made progress in digital transformation, challenges remain in terms of progressing personalization, and in particular, real-time personalization. And from my perspective, many of the challenges involve defining and collecting the right data, as well as choosing the right marketing technology to deliver the kind of digital CX people value.
We know there has been a rapid increase in the number and variety of marketing technology tools that are available, with more than 9,000 marketing tools and platforms available, a number that is growing annually. While this presents an opportunity for marketers to strengthen their digital CX strategies, deciding on the right marketing technology for an organization's needs is not always straightforward. As the range of digital tools continues to expand, understanding and identifying the right technology solution that is set up to deliver against brands' marketing objectives has become a more complex task.
Recent changes in data privacy legislation as well as the upcoming discontinuation of support for third-party cookies is presenting marketers with a challenge in effectively collecting and using consumer data. Brands have relied on cookies for years to track web activity, tailor offers, and improve user experience. The discontinuation of support for cookies is forcing marketers to consider alternative options for informing and targeting marketing efforts. With Google's decision to deprecate third-party cookies delayed until 2023, marketers have time to prepare, but this change will radically change the way organizations utilize data for prospecting. Brands that are heavily reliant on third-party data and cookie technology will need to adapt to the cookieless world while continuing to grow their digital CX underpinned by a robust first-party data layer.
We recently commissioned market research to explore the challenges marketers around the world face with regard to personalization. The research shows that many brands are well on their way to transitioning from relying on third-party cookies. Amid the shift from reliance on third-party data, first-party customer data (data that is directly obtained from customers) has gained importance to organizations in their journey to delivering an enhanced digital CX.
Here are a few highlights from the study:
59% of U.S.-based brands said first-party data has been a priority for several years, ahead of all other markets surveyed, as less than half of organizations say the same (see Figure 3).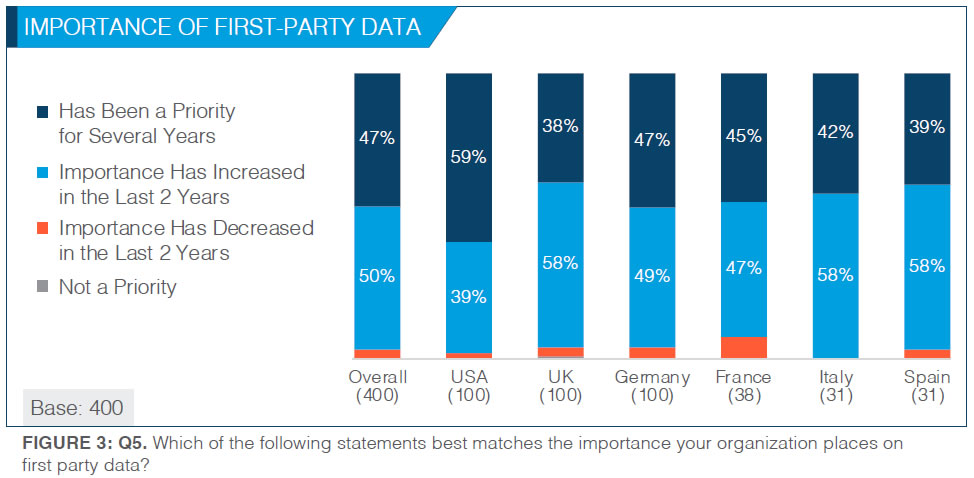 Real-time personalization is expected to remain a core marketing priority over the next three years, with 79% of organizations we surveyed saying it will be very important – an increase of 15 percentage points compared to those who say it is very important today (64%) (see Figure 12).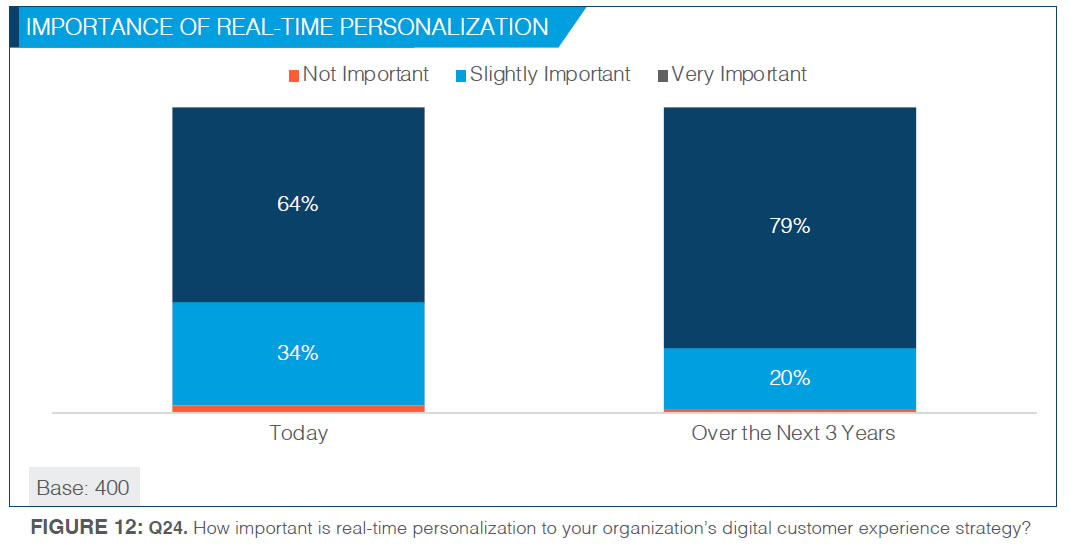 Customer data platforms (CDPs) are becoming an established tool for enabling real-time personalization and for helping marketing with the transition to prospecting without  third-party cookies. CDPs have emerged over the last decade, but it has only been in recent years that adoption has truly taken off.  CDPs are typically being implemented for three key reasons: (1) customer data collection, analysis, ingestion, and integration, (2) marketing, advertising and activation, (3) real-time personalization (see Figure 17).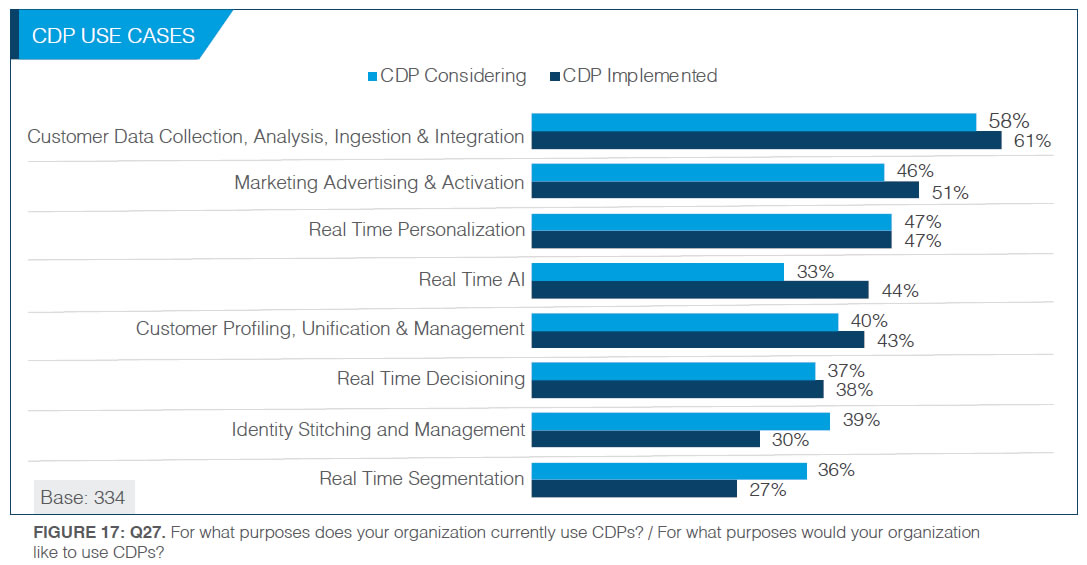 Interestingly, of those who have implemented a CDP, 98% of the respondents said they had significant challenges implementing the solution. The challenges most commonly faced included increasing skills on the team, and the investment and wider use of CDP insights across the business. Again, this points to the fact that it's harder than it looks.
Most organizations see developing a first-party data strategy as a priority; however, the path to delivering a personalized and seamless digital CX is not a straight line. There are many foundational elements that need to be fixed if marketing technologies are to truly aid digital CX efforts and ultimately marketing success and business growth.
Connecting data from multiple marketing channels is essential for success, especially as the range of sources increases. However, understanding the data that is collected remains a barrier to delivering effective, relevant, and tailored marketing efforts.
Finding a marketing technology is not the challenge, as there is an abundance of options. Our research has shown that marketers typically have good awareness of what is available, but for many, it is choosing the most appropriate solution. To be successful, marketers need to outline their goals and develop use cases well in advance to ensure the technology selection can grow with the business as its marketing objectives evolve.
A variety of marketing technology solutions have been adopted and investment will continue, but most brands are now recognizing that they are not using their marketing technology to its full potential. Even the most advanced marketing teams need help to optimize their use of technology. A culture of collaboration between martech providers, marketing agencies and their customers is essential to ensure marketing technology truly helps business-to-consumer organizations provide excellent digital CX.
For more information, download the study here.