Acxiom Presents
Customer Data: The New Love Language
at CES 2023
People want to feel loved by the brands they choose to do business with. Creating that relationship requires that brands speak the same language as people. What is that language? It's customer data, and it's becoming harder to collect, understand, share, protect and use. Missteps can be costly. Getting it right can result in a lifelong love affair and brand loyalty.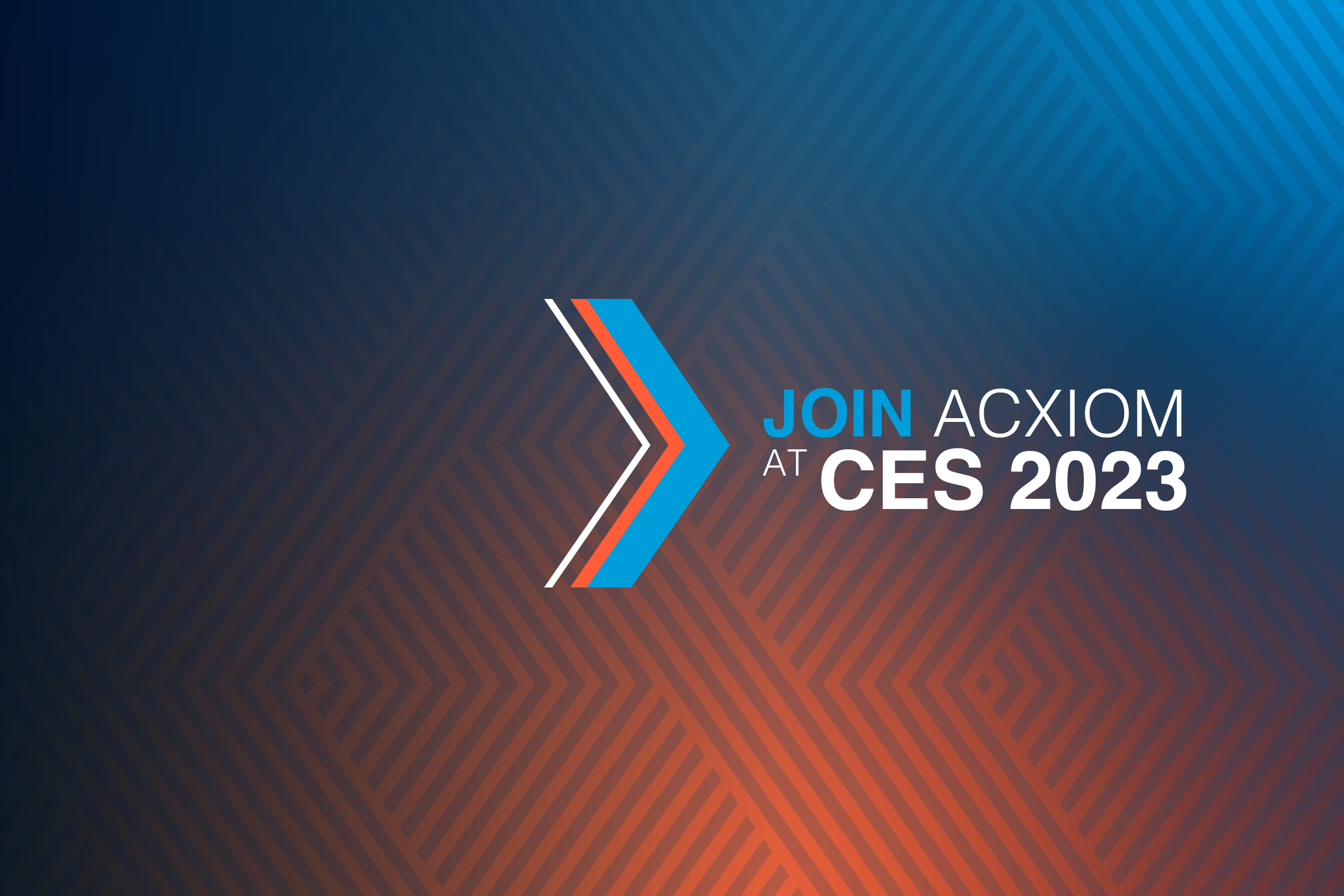 Customer Data: the New Love Language
Wednesday, January 4 | Las Vegas Convention Center West Hall – Room W218
Join Acxiom at CES for a half-day conference track of presentations and discussions with industry leaders on the role customer intelligence plays in delivering seamless, personal experiences.
AGENDA AT A GLANCE
Creating Lifetime Engagement with People Data
9:00-9:40 a.m. PST
Join Ajay Kapoor, Global Director of Performance Driven Marketing at General Motors (GM), and Chad Engelgau, Acxiom CEO, as they discuss how the automaker is harnessing the power of people data and technology across its business units to create personal experiences and lifetime customer value. Listen and learn as they discuss what lies ahead as the future of mobility unfolds to include collaboration across an ecosystem of brands driving electrification, autonomy, immersive in-vehicle experiences, and mobility services.
Ajay Kapoor, Global Director of Performance Driven Marketing, General Motors

Chad Engelgau, Chief Executive Office and President, Acxiom
Innovations in Data About People
10:00-10:40 a.m. PST
Brands are clamoring to use data about people to deliver experiences they love. Doing that while also navigating individuals' desires for privacy and regulation is non-negotiable. It gets harder when brands come together to create experiences. Innovations in data about people and technology can help. Listen to this panel of leaders representing brands in data, technology and mobility discuss how collecting and sharing data about people is changing.
Moderator: Steve Schmith, Director Industry Strategy Automotive, Acxiom
Vicki Poponi, Vice President, Automotive Industry Advisor, Salesforce
Ed Chung, Chief Financial Officer, Jerry
Caution: Missed CX Opportunities Ahead
11:00-11:40 a.m. PST
Senior executives representing brands across different industries will discuss how they are leading efforts inside their organizations and in the business ecosystems in which they operate to discover new ways of harnessing the power of people data to create exciting experiences for their customers and create more value for investors, owners, and other stakeholders.
Moderator: Joyce Turner, General Manager/Head of Acxiom and IPG Solutions, Acxiom
Chad Collier, CEO and Founder, CarSaver
Registration to CES provides access to Acxiom's session.
Want to schedule time to meet with Acxiom at CES? Reserve today!
Ed Chung

Chief Financial Officer
Jerry

Chad Collier

Founder & CEO
CarSaver

Chad Engelgau

Chief Executive Office and President
Acxiom

Ajay Kapoor

Executive, Performance-Driven Marketing
General Motors

Tate Olinghouse

Chief Client Officer
Acxiom

Vicki Poponi

Vice President, Automotive Industry Advisor
Salesforce

Steve Schmith

Director Industry Strategy Automotive
Acxiom

Joyce Turner

General Manager/Head of Acxiom and IPG Solutions
Acxiom