Shopper Identity
Identity is complex. Each channel through which your customers engage your retail banner or vendor brand – whether that's a Facebook ad, your website, a retargeted ad, an in-store visit, digital purchase, social media post or email – holds just a fragment of insights into who that person is, their purchase history with your brand, their preferences and their interests. Most retailers have 4 to 7 internal systems containing data which is managed by 3 to 5 internal IDs.
Without an identity solution to align those fragmented and rapidly growing data points, and to recognize who an individual is and the history with your brand, you'll likely deliver a disjointed, inconsistent customer experience.
Acxiom has been at the forefront of identity innovation since the launch of AbiliTec in 1999, the first referential identity graph allowing for persistent IDs, to the recent launch of Real IdentityTM, which enables identity transparency & retail brand ownership of identity graphs.
In the digital age, it is important to remember that grocery and C-store shoppers are people, not proxies (like devices or IP addresses). According to the 2022 Acxiom Grocery and C-Store MadTech Study, just under half of shoppers visit the website and less than 1 in 3 download the app of their favorite grocers; in-store only 1 in 5 use the store wifi and 1 in 6 scan its QR codes. So these signals tell only part of the story.
Real IdentityTM enables you to recognize 5x more shoppers and connect together all of their experiences with you.
Build a Shopper Identity Graph
Cookie-dominant identity graphs, on-boarders and platforms are in decline. PII and first-party data mastery, integrations, identity and data sharing are the new currency to future-proof your business and seamlessly create unique value exchanges with shoppers. Acxiom has a clear roadmap to transition CPG retailers through these changes:
Assemble all people-related data into your privately-owned Identity Graph:

rGRAPH collects personally identifiable information as a normal part of establishing a relationship with a customer.
rGRAPH360 stores and supports pseudonymous data, allowing brands to ethically connect it with deterministic data in the graph.

Leverage this first-party framework to activate, personalize and measure with rID as your brand-specific universal identifier enabling a true 360° single customer view.
The Shopper Identity Graph offers the following key benefits:
Control
Simply put: You own it. You scale it, and you have more leverage into publisher networks and/or second-party partnerships.
Future Proof
Eliminate reliance on third-party cookies and instead use a first-party tag: rTAG is a first-party tag for deployment across owned and paid media and functions as a pure first-party tag delivering diner signals data back to your ecosystem.
Multi-Functional
Identity isn't just about marketing. Your identity graph also ensures your operational use cases like store-specific SKU selection, fresh and prepared food menu development, inventory and people planning are kept up-to-date with customer engagements, transactions and touchpoints in real time.
Create First-Party Data at Scale
Historically, grocery retailers have been at a disadvantage due to a lack of extensive first-party data, which was among the reasons behind the emergence of plastic grocery store loyalty cards in the 1990's. The migration to loyalty apps did not necessarily solve the challenge of driving loyalty program adoption, with 29% of customers having downloaded their grocery store app and 33% having signed up for its loyalty program post-pandemic. Moreover, only half of those who signed up always identify themselves when making in-store purchases (per Acxiom 2022 MADTech Study).
Digital and social media generations like Millenials and Gen Z may provide a boost (especially now that they are starting families) because they are more open to sharing personal information. They are not only motivated by earning discounts and getting exclusive deals through their loyalty memberships but they are comparatively more into personalized convenience (delivery benefits), services (recommendations, product-related content) and gamification.
Regardless, just 51% of customers are currently sharing any personal information (PII) with a grocery store so it is critical to leverage a broad set of customer data collection tools that take into consideration the changing privacy regulations and the phasing out of identifiers like third-party cookies.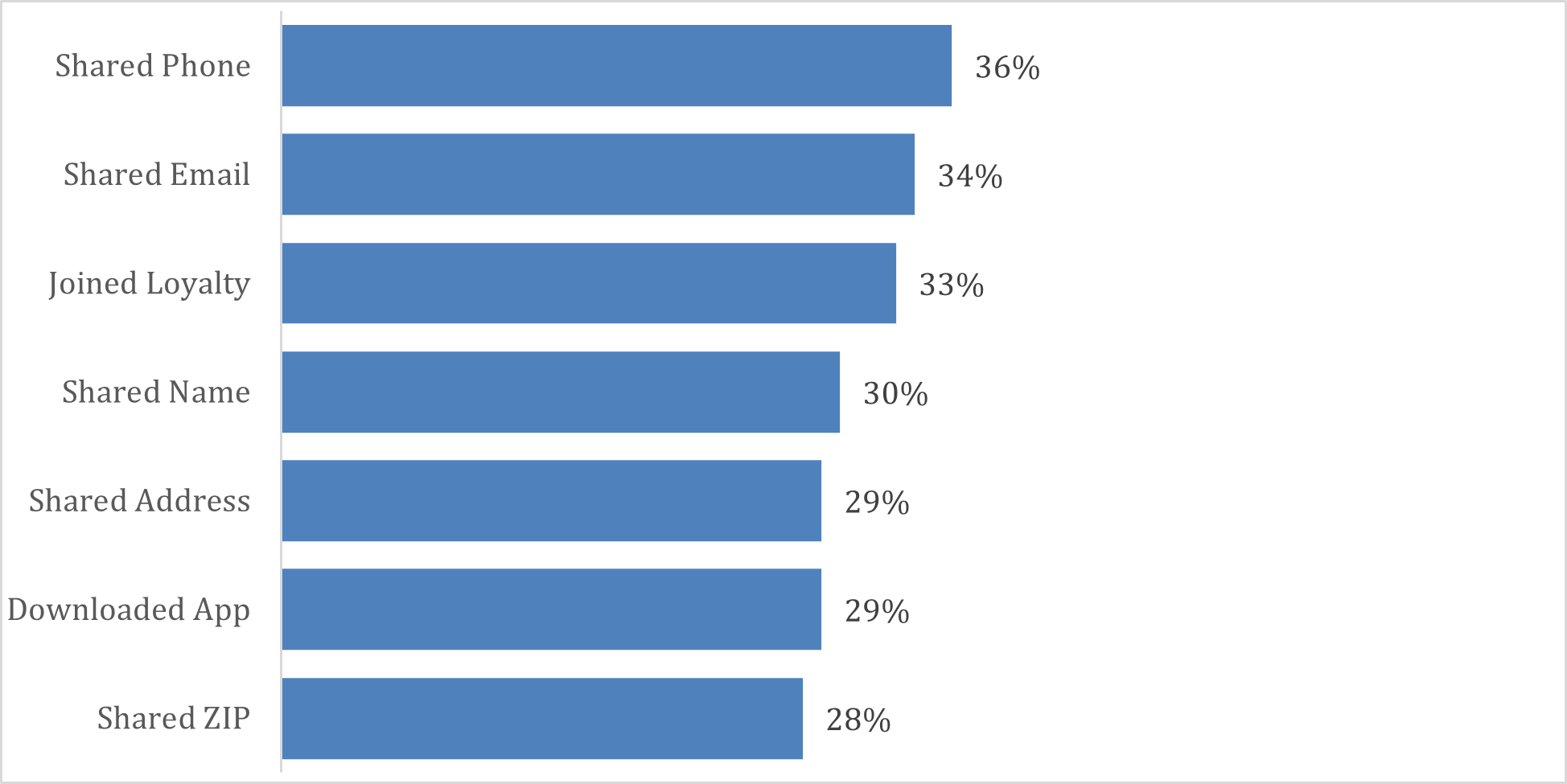 It is increasingly essential to modernize rich data capture from store point-of-sale (POS) systems and other sources. To maximize throughput at the checkout counter, most POS systems were originally optimized to enable rapid order capture and payment. Newer payment systems, however, are cloud-based that have native capabilities and/or APIs to connect with loyalty, inventory, accounting, and other systems. To remain competitive, store systems must enable customer identity capture, purchase history and product preferences from their integrated POS. Because only one in six in-store or pickup orders are made in cash (and practically none for delivery), Acxiom can significantly boost customer recognition and append rich persona data to POS card swipes.
In addition, since the pandemic, QR codes have become increasingly popular. Dynamic QR codes, combined with your first-party HTML rTag, can capture in-store behaviors, deliver digital coupons, access to services or product information and land this data within your Customer Data Platform (CDP).
QR codes tend to have high scan-to-app install rates, which further boosts first-party data collection. They can also be used on delivery packaging, mailers and in-store displays with exclusive coupons. Other innovative applications of QR codes include automatically connecting to store wifi and scan-to-call for grocery delivery.
Acxiom solutions provide grocers and c-stores with the ability to:
Transform payment processing into rich first-party data
Collect comprehensive insights across shopper touchpoints including QR codes
Maximize ingestion of paid and owned media consumer behaviors
Simply put, we enable brands to know more and to convert that knowledge into high value interactions at scale.
Enhance Shopper Insights with Data
As your modernized store systems capture data, what you know about your customers can be further enhanced with zero-party (customer volunteered), second-party (shared by business partners like CPG manufacturers) and third-party (licensed demographics, affinities and behaviors) data. This new rich foundational asset fuels your store's Customer Data Platform (CDP), enabling highly engaging and personalized interactions from your owned properties, paid media to in-person shopping trips, click-and-collect or delivery.
Third-party Data Enrichment
Licensed third-party data can be leveraged for audience insights and discovery by sizing and segmenting the addressable market and building 360° customer archetypes. Retailers that have sufficient and clean first-party data can append these third-party data elements and propensities to fill in gaps in their customer portrait for use in analytic, personalization and targeting applications.
Audience models are important because they provide information actual data does not, like:
Scale
Solely using actual data has an opportunity cost due to limited coverage.
Look-a-like models can take a small panel of consumer transactions, responses or actions and expand them across the US.
Personalized and Creative Messaging
With the insights and knowledge Acxiom models provide across the customer life cycle, grocers and c-stores have significantly more flexibility to customize messaging & match creative to echo customer preferences.
Media Efficiency
Tailored messaging delivered to the right customers consistently returns higher value.
Learn more about best practices around testing, custom model creation and more to build optimal audiences.
InfoBase
Acxiom InfoBase® is comprised of several services:
The premier source of marketable and accurate consumer lists with coverage of more than 260 million U.S. individuals and approximately 186 million households for digital and offline customer acquisition.
A comprehensive single source of third-party descriptive and touch point data for nearly all addressable U.S. shoppers with more than 5,000 attributes and propensities (including consumable food & beverage preferences) allowing you to better understand customers, better predict brand affinity, preferences, and behavior as well as engage and personalize their experiences across digital and offline channels.
Personicx® provides marketers with high-performance, multi-dimensional consumer segmentation solutions that deliver robust insights in ready-to-go personas for quickly defining audiences and creating exceptional customer experiences. For example, Personicx Lifestage is a household-level segmentation system. Using demographic and behavioral data, it assigns every U.S. household to one of 70 clusters within 21 lifestage groups. All segments are updated monthly to maintain accuracy.
Grocery and CPG Shopper Audiences
Acxiom can further enrich insights by integrating shopper audiences by retail banner, CPG category and brand, in-store vs. delivery customers that are curated in partnership with select data providers who meet requirements for ethical data use – covering your brand and your competitors.
With past purchase behavior remaining the best predictor of future buying behavior, Acxiom partner audiences deliver highly predictive data for acquisition and prospecting:
| | |
| --- | --- |
| Grocery and C-store Visitation Audiences | Powered by InMarket (formerly NinthDecimal) geolocation data: retail banner visitation frequency for you and your competitors |
| Grocery and CPG Spend Audiences | Granular loyalty and shopper basket data segments powered by NCS. Credit card and debit card transaction-informed segments by retail banner powered by Commerce Signals. |
Second-party Clean Rooms
The largest brands in the world are driving market transformation by working with suppliers and partners to combine insights with marketing tactics to grow sales efficiently. The 2024 deprecation of third-party cookies and more stringent privacy regulations have given this more urgency. Advances in data sharing tech and a migration from on-premise to the cloud have made this more cost-effective and less cumbersome.
Acxiom's Clean Room, powered by Snowflake, Google Cloud Platform (GCP) or other partners enables second-party data sharing and monetization by joining your shopper data with select partner(s) data via a neutral collaborative data ecosystem. Our standard clean room processes more than 3 billion records. Collaboration can be as simple as overlap analysis or enabling co-marketing campaigns, or it can be complex like partner data hubs or exchanges.
Our privacy-by-design approach helps safely share and monetize data in our complete clean room solutions – environment and services – for better marketing results. We never release your customers' personally identifiable information to partners. We only allow partners to see the data that is agreed between them.
Enable co-marketing initiatives and cross-sell opportunities
Increase ROI, insights and leads
Efficiently ingest and manage all types of disparate data into a single environment for business activation
Leverage Acxiom's unparalleled data governance and superior identity spines, which are essential for collaboration
Zero-party Data Insights
Data volunteered by shoppers through surveys and other tools can deliver high-level strategic insights but often don't scale well due to sample size limitations.
Grocers and C-stores collaborating with Acxiom can significantly enhance the utility of this zero-party data by matching survey respondents to the 260 million individuals in InfoBase to:
Append Infobase and Acxiom partner data elements for richer insights
Leverage the survey as a seed for lookalike modeling and scaling up audiences
Score the enriched first-party graph with these new classifications
Activate these new high value audiences across digital and offline channels
For Acxiom's point-of-view on how relevant and quality data can create a connected customer experience, see here.
Customized Audiences
Acxiom's automated logistic regression modeling service is available for building custom models based on retailer first-party data.
Data Guru, our team of data strategists, looks at your campaign objectives and provides the expertise to guide you through audience creation, curating the best possible audience to crush your advertising goals.
With Data Guru, you can create custom audiences, extend look-alike audiences and distribute to your preferred publishers and platforms – as easy as one, two, three, determined by your:
| | |
| --- | --- |
| Objectives | Awareness, Engagement, Lead Generation, Store Traffic, etc. |
| Pain Points | Segmentation strategies, Competition, Scale, etc. |
| Key Performance Indicators (KPIs) | Click-through Rate, Cost per Action, Cost per Acquisition, etc. |
Case Study: Large C-Store Creates Transaction-Informed Audiences
Challenge: This brand's campaigns focused on driving awareness and consideration in offline media while leveraging digital to drive visitation. Effectiveness was measured by the lift in mobile device traffic. Their objective was to boost ROAS through improved audience targeting and shifting a larger portion of spend to working media, all validated by more precise measurement.
Solution: Acxiom introduced people-based card swipe behavior at the pump to build a custom model and create higher performing audiences while also enabling closed loop ROAS measurement.
Results: The new bespoke audiences produced a 28% higher average number of transactions and 36% higher spend vs. the previous audiences.