Infographic
Immersive Shopping
Advances in AR, VR, and AI are transforming the shopping experience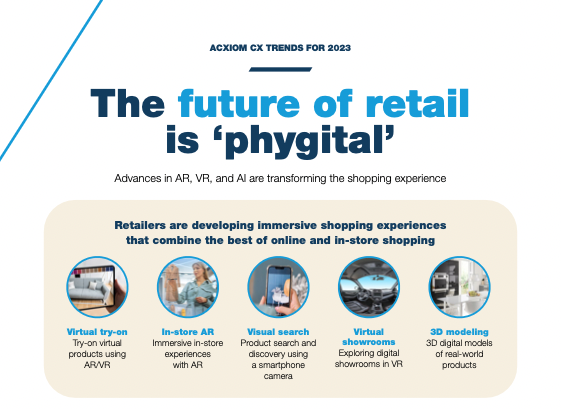 What Is It?
Immersive shopping uses simulation-based technologies such as augmented and virtual reality to create interactive and highly personal shopping experiences.
While retailers are only just getting started, current use cases include:
Virtual try-on

Beauty and fashion brands are leading the way with virtual try-on experiences, using smartphone cameras to project a product – such as lipstick or glasses – onto a live image of the shopper's face or body. But the principle is also widely used in the homeware sector, with shoppers able to use Augmented Reality (AR) to see how items of furniture or accessories look in specific locations.

80%

of consumers who have used immersive shopping find AR shopping experiences appealing1

Virtual showroom

Beauty and fashion brands are leading the way with virtual try-on experiences, using smartphone cameras to project a product – such as lipstick or glasses – onto a live image of the shopper's face or body. But the principle is also widely used in the homeware sector, with shoppers able to use Augmented Reality (AR) to see how items of furniture or accessories look in specific locations.

78%

of consumers who have used immersive shopping find virtual showroom shopping experiences appealing2

3D modeling

3D modeling is an extension of the virtual showroom that uses simulation technologies to model a product or an entire space — think designing a full holographic kitchen or completely customizing a car. This technology is particularly valuable for people who want to immerse themselves in a space before making a high value purchase decision, such as investing in a remodel or buying a new house.

85%

of consumers who have used immersive shopping find 3D modeling shopping experiences appealing3

In-store AR

AR presents opportunities for brands to bring new, exciting technology-driven experiences to brick and mortar stores. From interactive digital products overlayed on the real world, to immersive experiences that capture the essence of the brand, AR can enable the next generation of experiential retail that is more interactive and more engaging than traditional retail.

56%

of consumers are excited to see immersive shopping experiences used by more stores

Visual search

Visual search allows people to use their smartphone to shop the world around them. By simply taking a photo of an item in the real world and doing a visual search, consumers can access information that's available about it online – such as where they can buy it and how much it costs. They can also find similar or related products for comparison.

90%

More than 90% of Americans currently use, or would consider using, visual search for shopping4
Case Study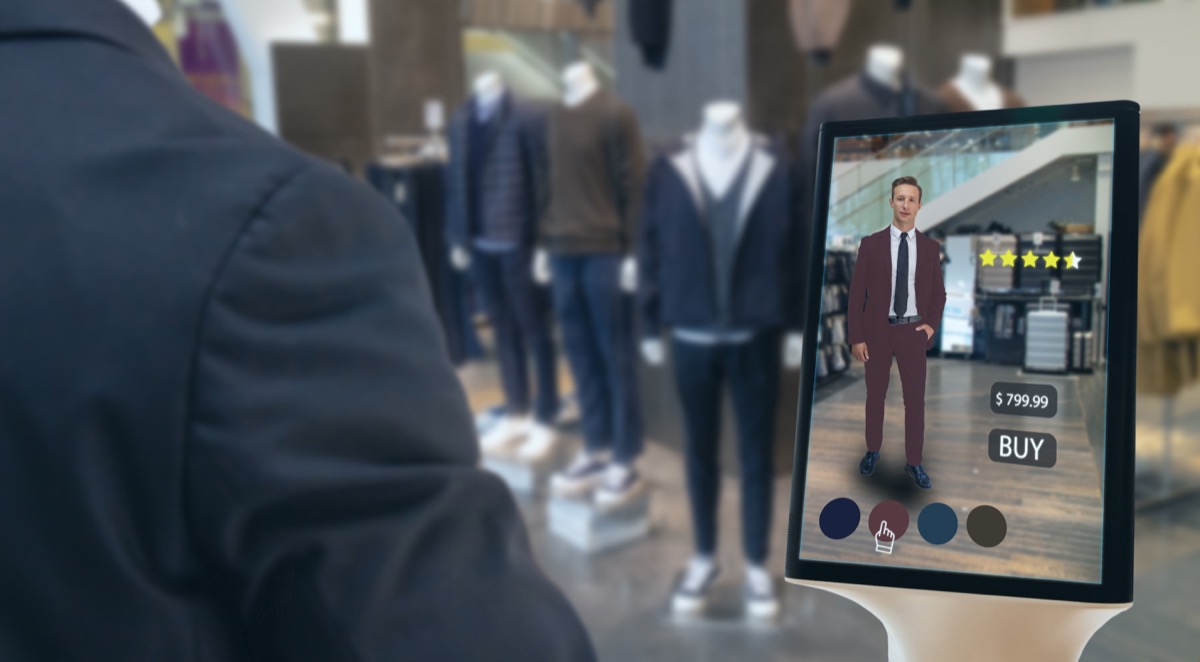 Digital avatars: increasing consumer confidence when shopping online
Reactive Reality is using AI, photogrammetry and image- based rendering to automate the conversion of 2D images of people and products into photorealistic 3D models. Their technology enables shoppers to create a digital avatar of themselves to virtually "try on" items of clothing prior to purchase. It is working closely with ecommerce brands, including NET-A-PORTER, to improve the customer experiences, increase sale conversions, and overall customer satisfaction.
Perhaps most importantly, the technology is helping brands reduce costly and environmentally damaging returns by up to 30%, by increasing consumer confidence when shopping online.5
Why Now?
It is still early days. Nearly half of consumers haven't yet used immersive shopping experiences or aren't even aware these options are available. But immersive shopping is growing quickly, driven by a number of factors.
Necessity is known to be the mother of invention, and this was certainly in evidence during periods of pandemic-related lockdown, where businesses such as car dealerships turned to immersive shopping when their showrooms were forced to close.
Overall, the pandemic accelerated a shift to ecommerce, which consumers now rely on ever-more heavily. Immersive shopping enables brands to create well-imagined virtual experiences that can replicate or replace the in-store experience, making it a vital part of any ecommerce strategy. Although the impact of the pandemic may be subsiding, the market is still disrupted by global events and economic uncertainty, meaning any developments that can increase customer delight, conversion, and loyalty, while potentially also reducing costs (more on that later), are very welcome.
Technological progress and adoption are also driving growth. Smartphone cameras and the AR software underpinning immersive shopping are getting better every year. And an estimated 56 million Americans used AR at least once a month in 2022, albeit mostly for gaming.6
While the above are all important drivers of immersive shopping, by far the most important factor behind its growth is consumer behavior. People are becoming pickier about the brands and stores they choose. It's getting harder to grab and keep their attention, and they are looking for new and innovative shopping experiences. They also want more information to make sure a product is right for them before they buy. In this context, virtual experiences that capture the essence of a brand and tell its story in a meaningful way, while also enabling the shopper to experience its products, are a vital part of any retail strategy.
Crucially, over three quarters of the consumers in our study who had tried immersive shopping were satisfied with their experience, and just under half bought a product as a result.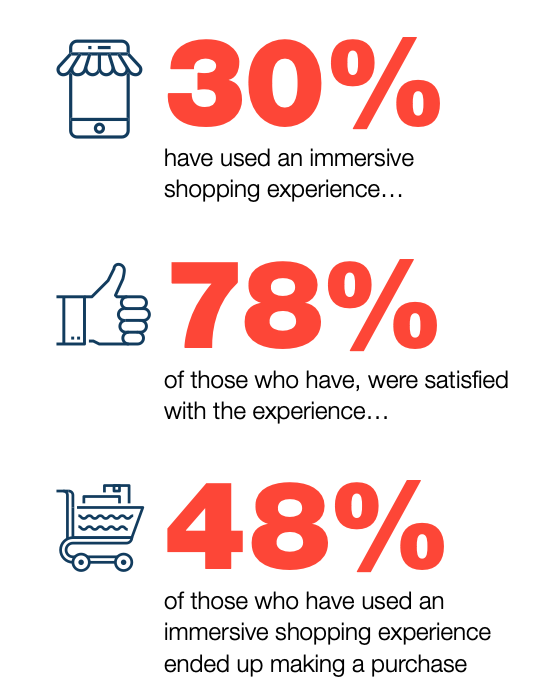 Analysis - Consumer View
We've already seen how consumer expectations of brands and the shopping experience are increasing. People want to sink into shopping, to be inspired, to try out products, and to ask friends for their opinion, all before committing to a purchase. Here are three ways immersive shopping can improve the experience from the consumer's perspective:
1. Greater confidence in the product
Consumers want reassurance they are buying the right product. If they're choosing an item of clothing, for example, they want to be able to identify the size, color, and style that suits them best. Of those who have used immersive shopping, 73% agree it makes them more confident in the product they are going to buy.
2. A fun and social experience
In an era of social networks, instant messaging, and rich visual communication, people want a more fun and social experience when shopping, whether in-store or online.
They want to share potential purchases with their friends via platforms like Instagram and TikTok, to get opinions before making a decision. Immersive technologies complement this social sharing to make shopping more engaging and interactive than ever before.
3. A more personal encounter
Immersive shopping provides richer sensory feedback to the brain, which – when properly implemented – can elicit more powerful emotional reactions. This opens up the opportunity to give a more personal feel to shopping, be that through trying on a virtual winter coat or placing a coffee table in an AR re-creation of your living room.
While furniture is most often identified as the retail sector that could be improved by immersive shopping, the majority of consumers also think it would enhance the purchase experience for cars, glasses, and jewelry. And almost half would welcome its use in grocery shopping.
The proportion of consumers who believe their shopping experience would be improved by an immersive shopping experience related to the products below:7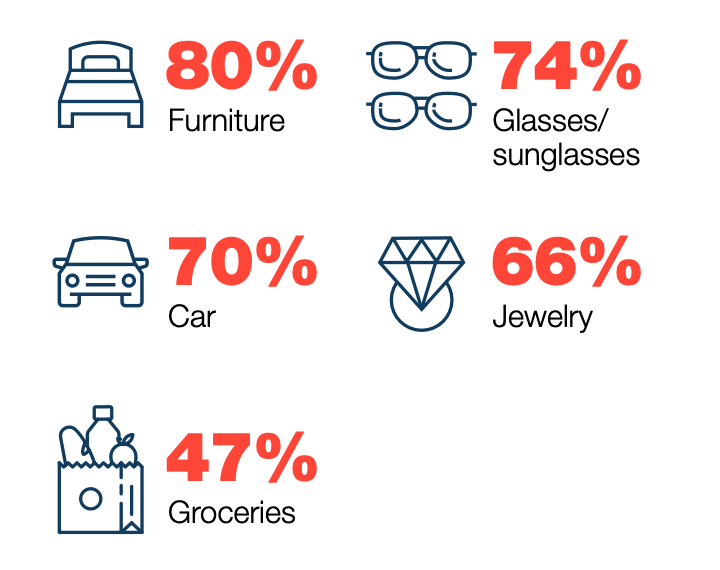 Analysis - Company View
The appeal of immersive shopping for the consumer is clear. So, what about the brand? Below are three of the ways brands could benefit:
1. Engaging the omnichannel shopper
Online retail spending continues to grow. In the US it increased 40 percent in 2021, and in the UK it remains above pre-pandemic levels.8
But contrary to expectations, in-store has also recovered well, with about 75% of US consumers researching products and making purchases in both brick-and-mortar and online channels (across all categories spanning consumer electronics to groceries).9
With consumers increasingly taking an omnichannel path to purchase, brands need to work harder to offer seamless, personalized, and differentiated experiences, which in turn drive conversion, basket size, and brand affinity.
Retailers know immersive shopping has a key role to play in engaging the omnichannel shopper.
Two-thirds believe immersive shopping experiences will become a useful tool to help their company better engage customers and generate brand loyalty.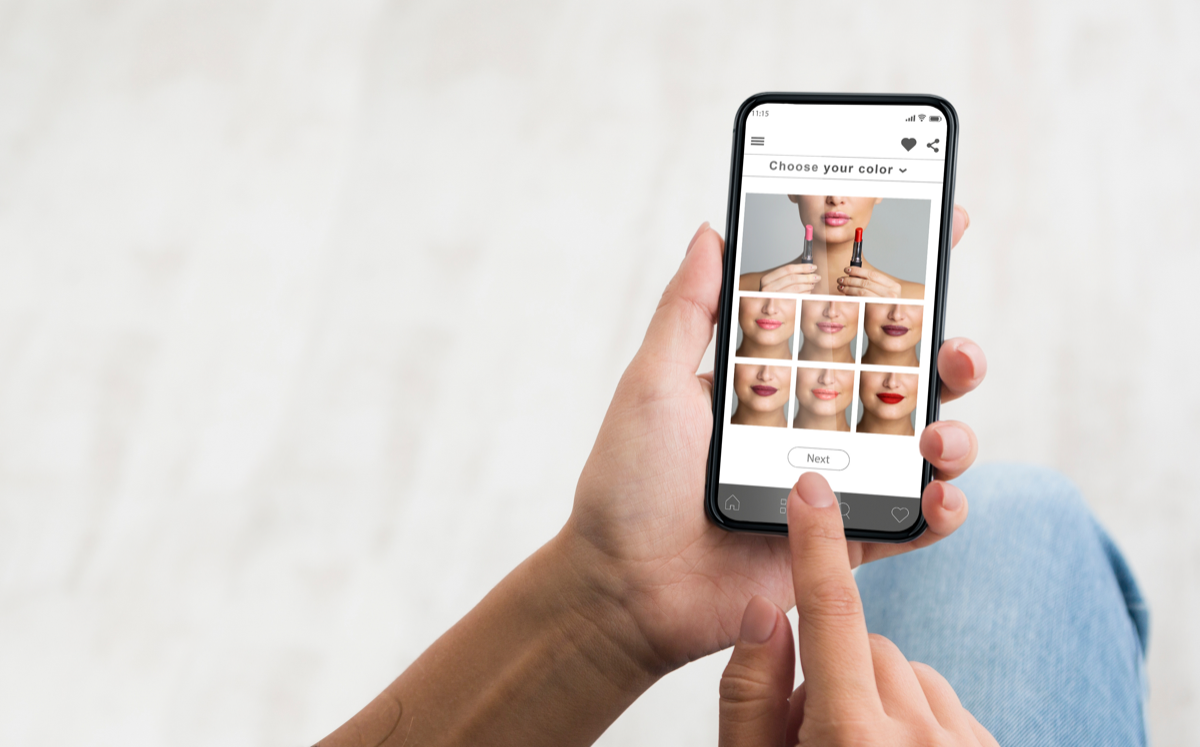 2. Saving costs by reducing returns
At a time when retailers are struggling with supply chain challenges and rising costs, immersive shopping has a key role to play in driving commercial efficiency by reducing returns.
The rise of ecommerce has caused a corresponding surge in returns, with one study showing the average value of returns for online shopping is around 30% of purchase value, compared to less than 9% for brick-and-mortars.10 Without the ability to try products in store, many customers order multiple variations because they are not sure which size or style will best suit them. They then return the ones they don't want. Items not fitting is the single biggest reason for products bought online being returned.11
By enabling shoppers to explore and try out products virtually, immersive shopping allows customers to make more informed purchase decisions which should ease the burden of returns on retail brands.
---
80% of retailers think in five years time most ecommerce retailers will have built immersive shopping experiences.
---
3. Understanding the customer through valuable data
Over three-quarters of retailers believe immersive online experiences will generate new data streams that enable businesses to better understand their customers and their buying habits.
In virtual environments, retailers can collect extensive passive and active customer data. Virtual try-on experiences, for example, can deliver data about which products are catching shoppers' attention, and which colors or styles they are finding most engaging. Equally, a virtual car showroom can help auto brands capture data about what models, features, and vehicle colors customers are considering.
With the right technology stack, brands can integrate this information with other data points from across the customer journey to further personalize the experience and to inform marketing across physical and digital channels.
Where next?
The shopping experience is changing rapidly. From AI assistants and social-media shopping to a variety of click and collect models – there is a long list of new shopping formats, both inside and outside the physical store.
The future of shopping is a combination of technologies and innovations that can make the experience richer, more interactive, and more integrated. Immersive shopping – aided by AR and VR – will have an increasingly prominent part to play in this exciting future.
Our research shows consumers are excited about immersive shopping but many have yet to try them. Almost half of consumers haven't tried immersive shopping because they don't think they have been offered them, suggesting opportunity for brands and retailers to build and grow awareness of these exciting new ways to shop.
Stepping stones to the metaverse
While we're still some way from going shopping in an entirely immersive reality, the experiences available today are a stepping stone to commerce in a fully- formed metaverse. Brands such as Gucci and Tommy Hilfiger have launched virtual shopping experiences in platforms like Roblox this year and others will likely follow, but for now the heart of immersive shopping will still be AR or VR experiences we look into on a screen, rather than something we are inside.
Adapting to a phygital world
Customer behavior is continually evolving, but the current trend is toward a "phygital" world, where the lines between physical and digital retail are increasingly blurred. Brands must take the best elements of each and use them to enhance the performance of both and deliver a better customer experience.
Immersive shopping experiences will be designed around this requirement, allowing users to research, explore, interact with, try on, and purchase a product virtually.
They will be a key tool for retailers to re-center the digital shopping experience around the specific needs of the consumer.
Embracing new technology
The technologies that enable immersive shopping will evolve rapidly. VR headsets are still the exception not the rule, but in 2023 we will see ever-more sophisticated AR tools emerging to enhance immersive shopping through the smartphone and other devices. For example, Apple's ARKIT 6 upgrade enables sophisticated 3D models to be created by scanning rooms with smartphone cameras – so products can be placed and modeled within them.
Similarly, avatar-based fit technology is coming to the online shopping experience, which should help address incorrect sizing and ultimately returns. Customers can create realistic avatar representations of themselves and use these to try on virtual clothes.
Industry leaders such as Amazon are currently working on digitization technology such as body mapping and virtual dressing, so customers can take a photo of themselves and adjust or input their measurements once the avatar model has been rendered. Many fashion brands are already digitizing their inventory in anticipation of these new technologies.12
AI analytics and customer data
Truly immersive experiences are made possible by technology working in the background to deliver the frictionless experiences customers expect. As retailers refine their ability to capture data and provide a single customer view across channels, they will increasingly be able to apply AI and analytics technologies to their real-time decision making – all to ensure the immersive experiences they deliver are as flexible and personalized as possible.
The most successful brands will be those who test and learn. They will need to become content creators and software designers, masters of the user interface, and experts in real-time data analytics, all at the same time.
References
Sources
MTM/Acxiom research: Q: Now thinking about how immersive experiences could be part of your shopping experience, how appealing do you find each of the following technologies? A: Augmented Reality: Bringing digital objects into the real world e.g,. virtual fitting rooms, digital furniture.
MTM/Acxiom: Q: Now thinking about how immersive experiences could be part of your shopping experience, how appealing do you find each of the following technologies? A: Virtual Reality: a simulated experience that can be similar to or completely different from the real world e.g., virtual car showrooms. mainstream.
MTM/Acxiom: Q: Now thinking about how immersive experiences could be part of your shopping experience, how appealing do you find each of the following technologies? A: 3D Customisation: Using 3D models to better customise your product's appearance and features e.g., Tesla custom order.
thinkwithgoogle.com. Augmented Reality shopping data.
reactivereality.com. Virtual try-on for fashion retail and e-commerce.
insiderintelligence.com. AR and VR enter the mainstream.
MTM Acxiom analysis.
In the UK, the proportion of retail sales online was 26.3% in July 2022, above pre-pandemic levels (19.8% in February 2020). ONS: Retail Sales Bulletin, July 2022.
"How US consumers are feeling, shopping, and spending—and what it means for companies," McKinsey, May 2022.
4experience.co. Immersive Shopping Is Effectively Changing E-commerce. And It's Spectacular!
corp.narvar.com. State of returns consumer report 2021.
digitalfren.com. 12 Augmented reality trends 2023: New milestones in immersive technologies.