Download the Forrester Report
How Customer Obsessed
are you?
At Acxiom, we understand that putting customers first and getting customer experience right is not easy for brands. There is no arrival, and the work is never done. It takes a constant commitment to customer understanding and a willingness to adapt based on every new interaction and every new piece of knowledge gained. Our world may be more complex, but we know when you understand people, conversations and experiences are always better.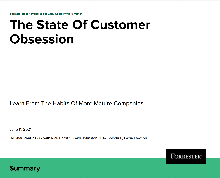 WHY BRAND's WHO LOVE PEOPLE, LOVE ACXIOM
Acxiom is a customer intelligence company that safely connects data and technology to create relevant experiences. We are the trusted advisor of hundreds of companies delivering, integrating and managing unified data layer solutions that power exceptional experiences. Brands need Acxiom to solve hard problems, but not just with data and technology, with expertise, ethics and compassion.
Client Trust

Leading competitors say they can do it, but we deliver. Our clients renew over 95% of their contracts.

Innovation

Constantly innovating in the areas of cloud, real-time decision making, compliance and integrations with activation and media applications.

Industry Expertise

We serve the world's largest and most successful companies, including nearly half of the Fortune 100, providing data-driven solutions across identity, data management, activation and insights.