Engage with a Personalized Call-to-Action
Successful bottom-of-funnel marketing tactics nurture leads and convert them into a customer. The campaign usually features a compelling call to action (CTA) or a special, limited time offer (LTO) that creates a sense of urgency like "Buy now and get 50% off!".
As with the earlier stages of the customer journey, personalization is key. Don't blindly engage all your potential shoppers with a generic CTA. Instead, segment your audience and deliver distinct and personalized content, for example with fashion and styling recommendations rendered on your website or app not only driven by similarities to complete a look with other items but also informed by the visitor's lifestyle and demographics.
This does not only apply to addressable advertising (future-proofed for a third-party cookieless world) but also to email and direct mail prospecting, which may also feature personalized CTAs and be deployed in a Customer Data Platform (CDP) to enable hyper-relevant messaging. Moreover, using multiple channels also boosts performance because of synergies: e.g., we have seen campaign response rates increased by 70% when using email and display together compared to display only.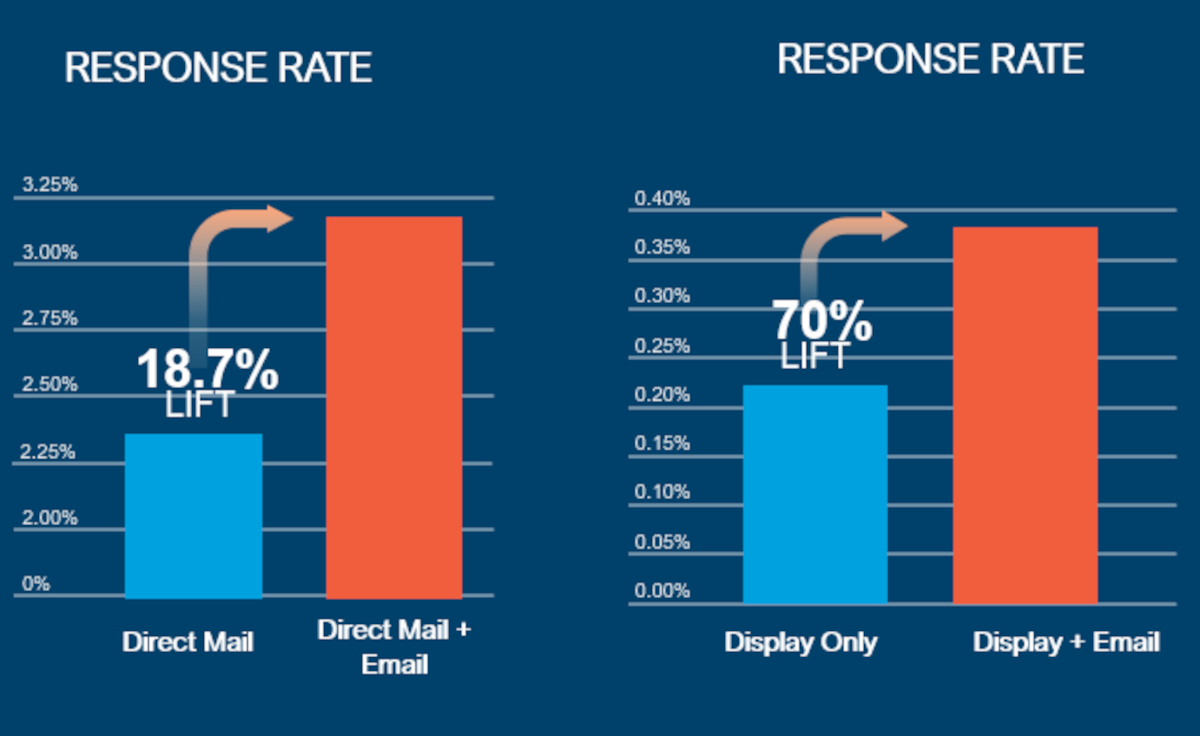 These insights can also feed next generation Dynamic Creative Optimization (DCO), which features dynamic content elements not just based on products viewed or added to a shopping cart but also their characteristics and preferences as an individual.
Ask our representative for a demo of Acxiom's AI- and data-driven refinement of personalized messaging and offers at each progressive touchpoint in the customer journey.
Recognize New Customers Across Touchpoints
To be effective, website and app personalization needs to consider who visitors are as a person, despite lacking any PII (like their name or email) during their sessions prior to authentication. IP address and other signals can be leveraged to create rich, third-party data-informed customer portraits (including demographics, interests, lifestyle, Personicx® lifestage and other segments) to fuel personalization.
In order to enable best-in-class recognition of shoppers as individuals in offline environments like manufacturer flagship stores, brands need to modernize rich data capture from store point-of-sale (POS) systems and other sources. This will maximize your ability to implement and measure true people-based analytics and marketing campaigns.
Once prospects make their first transaction online or offline, whatever personally identifiable information is collected needs to be assembled into your privately-owned rGRAPH and further enhanced with rich portrait data. This new rich foundational asset fuels your store's Customer Data Platform (CDP), enabling highly engaging and personalized interactions.
Maximize Customer Lifetime Value
Acxiom's Lifetime Analytics helps you grow the value of your customers across their entire journey.
In building lifetime value, you first need to identify which customers will likely generate repeat business. We analyze your first-party data and refine outreach opportunities to increase Customer Lifetime Value (CLV) and Return on Marketing Investment (ROMI).
We begin by segmenting your customer base and inform messaging, offer and channel selection. Then, using machine learning modeling, we identify upsell, cross-sell, reactivation, and attrition propensities. This is used as the foundation for iterative campaign measurement, from which we provide optimization recommendations, giving you the opportunity to keep your customers engaged.
As far as a customer's risk of attrition is concerned, we help you prioritize by considering customers' profitability and predict the propensity that your retention offer will motivate them to continue their journey with your brand. If you have a large pool of inactive customers, we also evaluate what it would take for them to re-engage, starting by identifying their channel preferences. Then we help you understand which offers drive action, which would improve their lifetime value, and which would improve their brand loyalty, preventing subsequent attrition.
We typically take the following steps in our customer retention work:
Ingest your first-party longitudinal data with key milestones and transaction history
Enhance it with Acxiom's rich data
Score your customer base with model deciles and build segmentation and propensity models to identify controllable attrition to identify Best Customers at Risk
Within the Best Customer at Risk segments, identify the subset of customers who are likely to be retained by ranking customers based on Lifetime Value (LTV) and focusing retention efforts on the top deciles
Roll-out retention plans, promoting to each at-risk individual
Run omnichannel campaigns to test responses and optimize iteratively
Measure ROAS & Attribution
Acxiom is a trusted analytics partner providing a full suite of analytics, including digital and addressable TV measurement. As a neutral, unbiased analytics provider, we understand the omnichannel marketing and digital ecosystem to ensure best practices are met for accurate measurement and privacy.
Third-party cookie deprecation has a potentially outsized impact on closed loop and attribution models. Rising walled gardens could easily double or triple attribution expenditures which is not practical for most brands. To address these challenges, Acxiom enables flexible measurement and attribution solutions.
We have pioneered new closed loop measurement that captures return on advertising spend (ROAS) and new attribution methods that accurately model the incremental value of each touchpoint. We capture your brand's owned and paid media with our first-party tag (Acxiom rTAG – universal first-person cookie tag) to connect media exposure with site visitors and actual conversions, sourced from retailers and dealers (loyalty & enriched POS data leveraged via clean rooms) combined with your brand's DTC conversions.
Acxiom can also flex solutions across open and walled gardens, as well as cloud platforms, to align the value of measurement capabilities with investment levels. We work with you to identify, design and implement solutions that meet your near-term needs while easily adjusting to changing MadTech capabilities and privacy demands. Regardless of the setup, the aim is to address the following burning issues:
Is my campaign overall meeting its performance goals?
How many individuals am I truly reaching?
What is the true incremental impact of my marketing?
What is my actual converted audience portrait?