Restaurants and other businesses still face significant challenges in delivering a seamless, cross-channel and contextually relevant experience, especially in real time, despite its well-documented benefits to diner relationships and top- and bottom-line results.
There are a variety of reasons why this remains a struggle. Read the highlights from our recent study or download our full report for details.
Fine-tune Your CDP
Acxiom offers many options for centralized housing and management of data assets including data lakes, analytics platforms, CRM, and a wide range of customer data platform (CDP) services.
A Customer Data Platform (CDP) is software that collects and unifies data (such as from your reservation system, take-out orders or mobile app) about your customer in real-time to create a more holistic customer view. From this view, more intelligent decisions can be made – based on business rules and AI – about what relevant content or service each individual diner needs.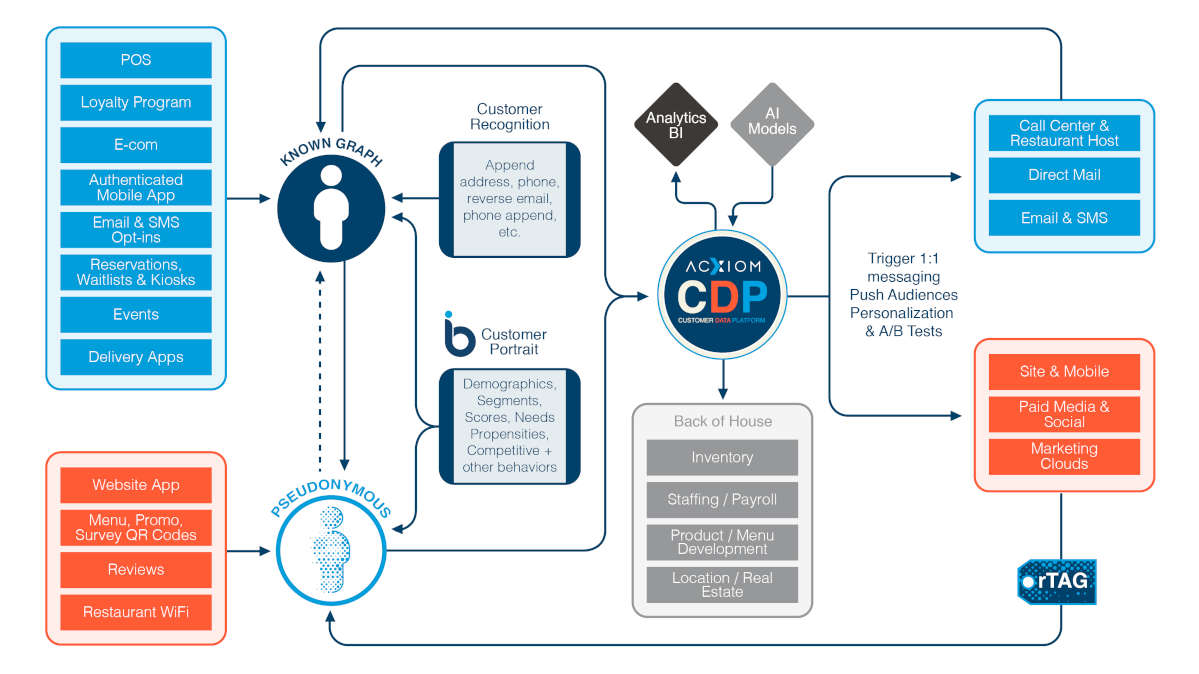 A Customer Data Platform (CDP) has often been presented as the holy grail that checks all the boxes, but many restaurant marketers have been disappointed to learn that not all problems are so easily solved. In fact, according to our recent study, 98% of the respondents who have implemented a CDP said they had significant challenges implementing the solution.
It is important that restaurants develop or partner with customer intelligence and experience (CI/CX) experts to:
Nurture the right data capture
Unclog data stuck in legacy systems or third-party environments
Cleanse, correct and complete customer data
Stitch together fragmented data
Enhance what you know with what your partners know, and what your customers will willingly share
Build the rulesets for appropriate and relevant automations
Push reconciled and enriched data across the enterprise
Watch the below restaurant customer journey demo to understand how Acxiom data and identity powers your CDP and drives conversions with behind-the-scenes technology implemented by our experts:
CDPs fall well short of delivering on their promise without this expertise. Acxiom can help your restaurant squeeze the highest return out of your CDP investment to impress your customers by creating transformative dining and loyalty experiences. Read more about CDP implementation pitfalls, or listen to our podcast: Help! My CDP Won't Work
Acxiom's CDP solution offers restaurants a particularly compelling set of unique benefits:
Includes a comprehensive data spine to quickly scale first-party insights to 50-75% of a brand's customers
Allows more relevant conversations in the moments that matter via machine learning and automation
Maximizes insights with comprehensive buying behaviors, needs, wants and preferences
Flexibility to leverage your restaurant's CDP, Acxiom's native CDP, or a partner's CDP. For example, Acxiom has partnered with Salesforce to provide data enrichment and hygiene, plus identity solutions for Salesforce CDP.
Consult our CDP buyer's guide or schedule a live demo with our experts to go in more depth.
Adopt Data-Driven Creative
Relevant ads deliver greater performance and boost marketing efficiency. In a growing trend of data-driven advertising, Dynamic Creative Optimization (DCO) offers personalization at an unprecedented scale and constitutes the next-generation programmatic creative.
DCO requires extensive diner data to feed the algorithm that selects pre-made dynamic ad variants, based on the best creative combination of elements like the geolocation of the diner, the nearest restaurant location, the best offer or call-to-action, the most suitable text, imagery, and character demographics.
The increased relevance, testing and optimization of these dynamic ads can boost their performance significantly compared to static ads. However, without comprehensive and accurate data available in real-time across channels, AI/machine learning cannot do its job.
Acxiom's rAPID capabilities deliver decisions in less than 10 milliseconds, empowering platforms with the information (and precious time) they need to deliver customized, relevant, and engaging messages. The suite of rAPID Services from Real Identity includes a first-party tag, data repository and API. They are combined with turnkey management of components to achieve optimal outcomes for your brand.
Acxiom also provides a comprehensive single source of third-party audiences covering nearly all addressable U.S. diners with thousands of attributes and propensities as well as restaurant brand visitation and spend signals, which is critical for DCO, especially in channels that lack customer insights beyond basic elements like IP address (connected TV for example).