Acxiom's Commitment to Diversity, Equity and Inclusion
DEI is in our DNA
Inclusion, diversity, equity and awareness are ingrained in our company DNA –- from our branding, to business practices like product development, to associate programs, training and recruiting.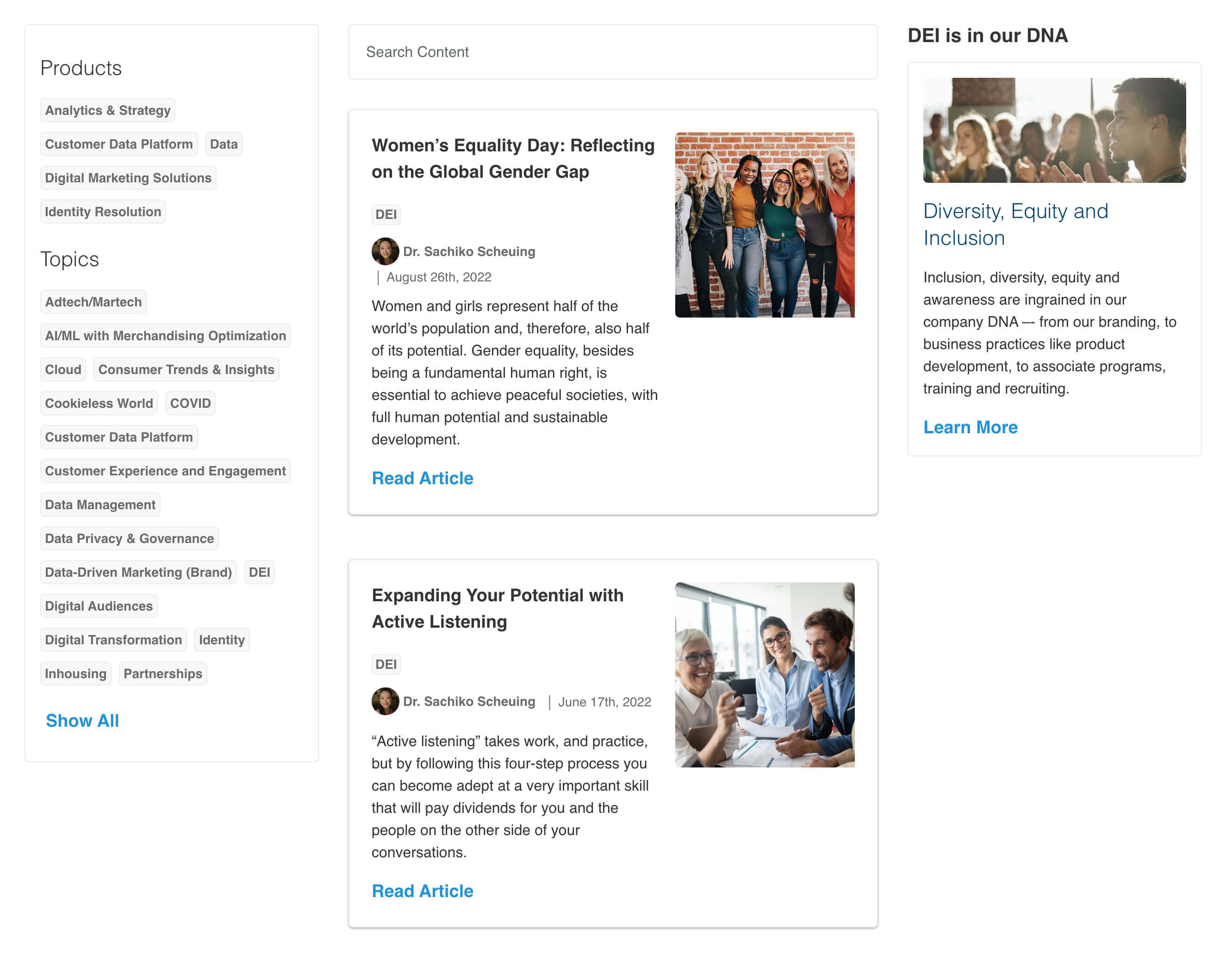 View Resources
DEI Resource Hub
Check out our DEI Resource Hub to learn more about Acxiom's approach to diversity, equity, and inclusion. As well as our latest DEI news, corporate initiatives, and awards, you'll find insightful blog posts from our associates.
View Resources
Our Approach
Global Business Resource Groups
We believe the grassroots commitment of our associates combined with the more formal company strategies the IDEA Council has established ensure we continually move Acxiom's DEI efforts forward.
ABEN (Acxiom Black Employee Network)

ABEN is committed to encouraging the transformation of our culture and offering education, tools and opportunities to Black associates to help support their professional and personal development.

Acxiom Women Lead

Women LEAD is a grassroots organization that aims to be the force for gender equality and opportunity within Acxiom and in our communities.

Parents/Caregivers

This BRG creates an environment for parents and caregivers to connect and learn from one another and provide access to tools and resources.

Military/Veterans

This BRG aims to cultivate a community centered around those who have served in the military, as well as their families, to show appreciation of the service veterans have provided.

Dis-Ability Champions

We are committed to foster a safe and inclusive environment at Acxiom for people with disabilities and those who support them through building awareness and fostering change.

LGBTQ+acxiom

This network supports LGBTQ+ employees and allies and advances initiatives key to the success of Acxiom.

SOMOS Acxiom

This BRG enhances Acxiom's efforts in the Hispanic/Latino community through community engagement, professional development, and mentoring.
Engaging our Communities
Acxiom partners with several organizations to help the next generation of leaders pursue their dreams through technology and marketing careers.
Acxiom's partnership with the Women's Foundation of Arkansas promoting the Girls of Promise® STEM initiative helps promote and nurture bright future leaders and encourages careers in STEM. This initiative encourages young women to remain in high school and further their studies in STEM fields through post-secondary education.

Acxiom has made significant contributions to further education in the areas of STEM and serves as a valued community partner with the University of Central Arkansas with a collaborative partnership with the university for initiatives in the College of Business and College of Natural Sciences and Mathematics. Such initiatives includes Acxiom's IT Careers Camp for high school students interested in careers in IT, internships that lead to full-time opportunities for graduates, Acxiom scholarships available to college juniors and seniors majoring in management information systems, the Acxiom Information Systems Student Award, given each year to the top information systems major in the College of Business, and continuous curriculum enhancements that fit the current skill set needs of the market.

Acxiom is an enthusiastic supporter of Girlstart and the organization's mission to increase girl's interest and engagement in STEM through innovative, nationally-recognized informal STEM education programs. With Acxiom's support, Girlstart provides a year-round, intensive suite of education programs for K-12 girls focused in high need schools across the U.S. The programs foster STEM skills development, an understanding of the importance of STEM as a way to solve the world's major problems, as well as an interest in STEM electives, majors and careers.