Infographic
Seamless Service
Advances in AI are enabling businesses to streamline critical
touchpoints in the customer journey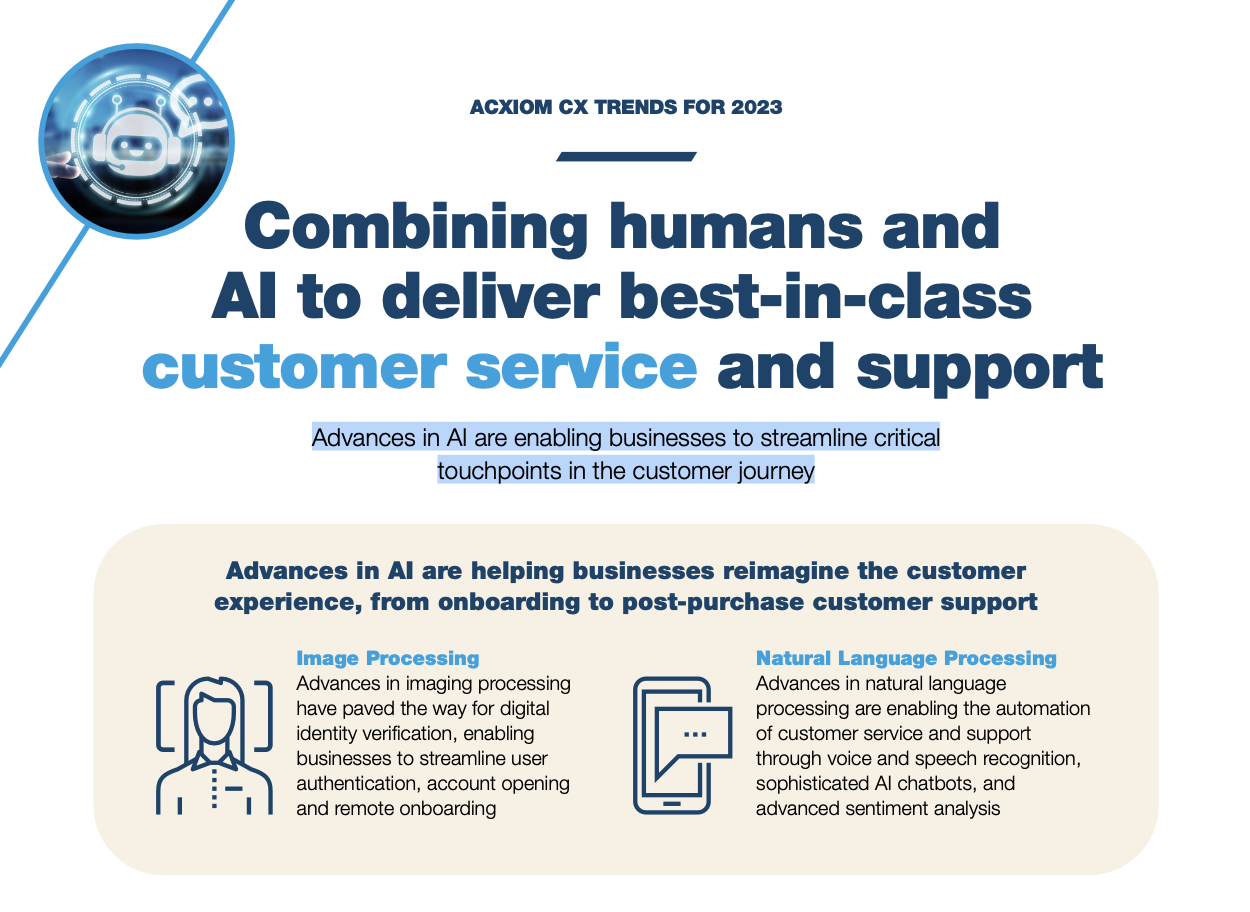 What Is It?
Brands are combining automated tools and technologies with human-centered approaches to deliver best-in-class customer service and support.
Brands use automated technologies and Artificial Intelligence (AI) throughout the customer journey.
From personalized product recommendations for undecided shoppers to auto-generated emails for cart abandoners.
But some critical touchpoints in the customer journey – namely customer service and support – are still delivered predominantly by humans. While almost two- thirds (64%) of businesses are already using AI to deliver customer support, this is likely to be largely through simple chatbots that are only able to deal with a limited set of basic, high frequency questions and complaints.
Over the next few years, we expect to see a step change in the world of customer service, driven by advances in AI technology and the deployment of next-generation digital assistants across the customer journey.
We expect a dramatic reduction in scenarios that require us to wait in telephone support lines or to be passed around a call center in search of someone who can help.
One type of technology that will help accelerate the automation of customer service and support is digital identity verification. This uses biometric technologies such as facial or voice recognition to streamline verification and authentication processes, ensuring people really are who they say they are. Apple's mixed reality headset, expected in 2023, is already touting iris scanning for payment options.1 The bottom line – biometric verification saves time for the consumer, reduces cost for the business, and increases security for both.
Automation is already removing friction from other parts of the customer journey, and in 2023 we will see it remove friction from customer services, too.
of businesses are using AI to deliver customer support
Why Now?
We've seen a breakthrough in conversational AI in the last couple of years, with digital assistants and AI chatbots increasingly able to understand complex questions and hold sophisticated, natural conversations.
This is partly due to the emergence of large, general- purpose language models such as OpenAI's GPT-3.
These models are trained on internet-scale datasets on thousands of compute clusters and are more powerful and more versatile than their predecessors. Using natural language understanding (NLU) and natural language processing (NLP), they can excel at an ever- wider range of customer service and support tasks.
Banking, for example, is one area where AI-powered digital assistants can play a vital role. They are already used for customer authentication, call classification, and basic account management tasks such as balance checking. But next generation assistants will offer a wider range of services, potentially delivering advice on financial management or issuing personalized offers.
Crucially, people are increasingly comfortable engaging with digital assistants. More than 60% of 16-34 year- olds told us they can't tell the difference between interacting with an automated system and talking to a real person.
Case Study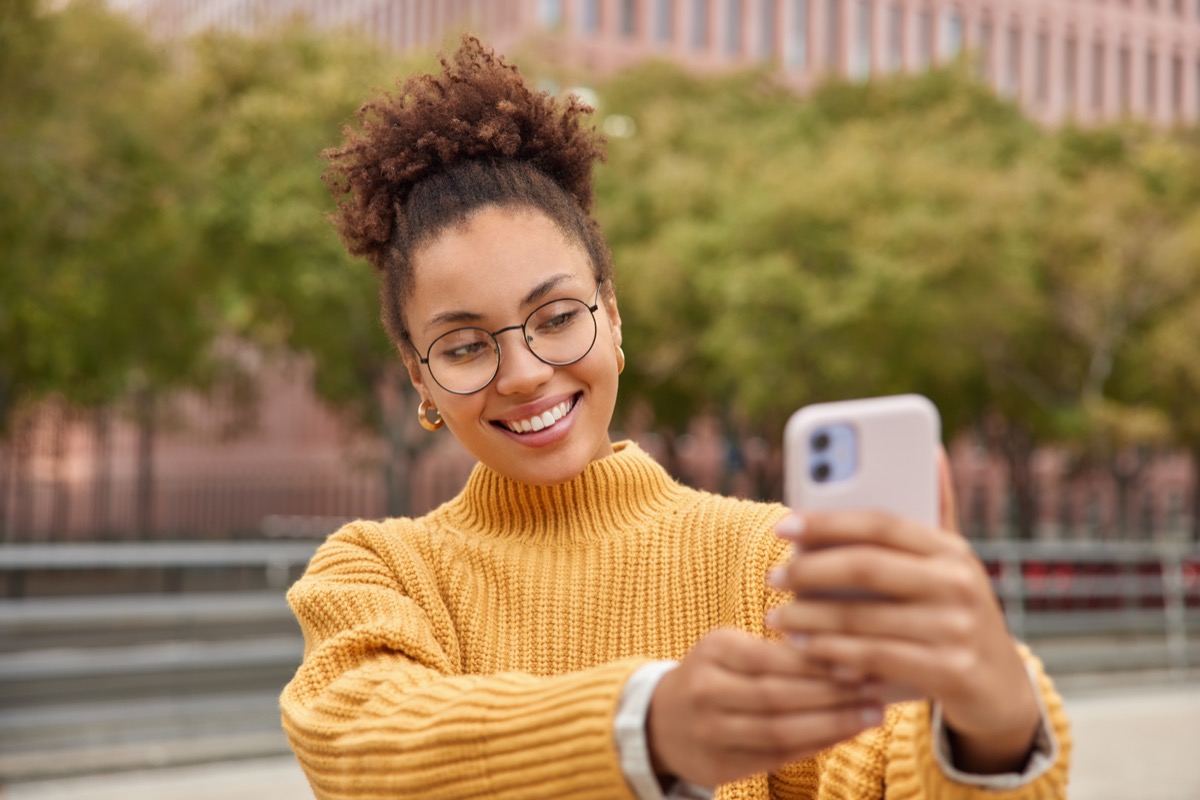 Onfido: digital identity verification for streamlined customer onboarding
Onfido provides a digital identity verification solution that helps businesses verify the identities of their users using advanced AI algorithms that compare a user selfie to a photo of their ID. If the algorithm is confident the selfie matches the photo ID, the user is automatically verified. If the algorithm is not confident the images match, the verification is sent for review by a human operator. This hybrid approach enables businesses to reduce the time and cost of customer acquisition, provide them with greater confidence their users are who they say they are, and help them deliver a seamless onboarding experience for their users. Since integrating Onfido, Check, a mobility as-a-service provider who operates a fleet of e-scooters, is able to verify 90% of its customers within 15 seconds.2
Analysis - Consumer View
People are increasingly comfortable with digital assistants for customer service
Businesses tend to build customer experiences under the assumption humans prefer human-led interactions. And it's technically true. The overall majority do still prefer to speak to a human assistant. But this view is shifting – fast.
As people increasingly interact with digital assistants and communicate via instant messaging platforms, their comfort with – and demand for – these always-on, responsive support systems is increasing. Demand is particularly high among younger age groups, with around half of 16-44 year-olds saying they prefer self-service and digital assistants to traditional human-centered interactions across various aspects of the customer journey, from purchasing to customer service and support.
Preference for digital assistant compared to human assistant, by age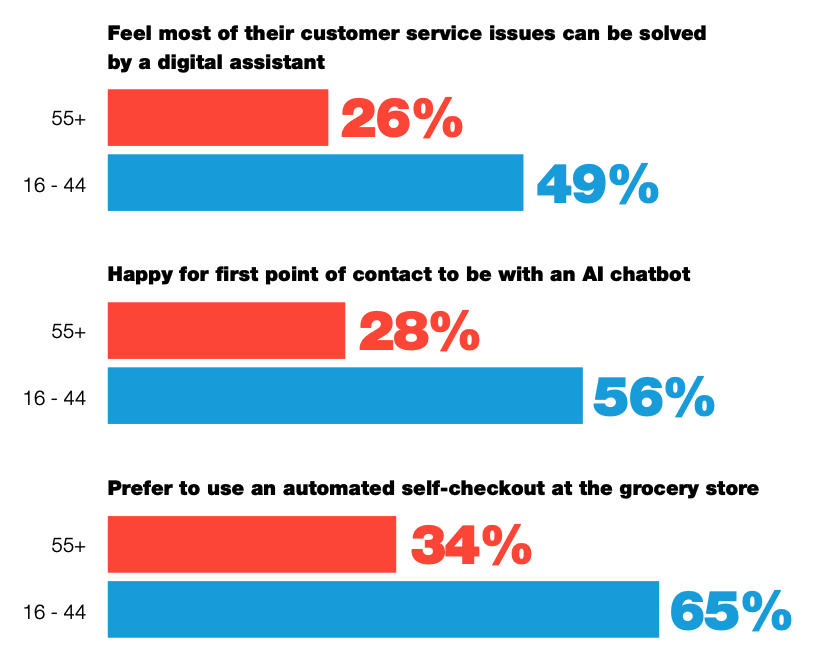 The majority of people are happy for digital assistants to access personal information
Businesses can't afford to operate digital assistants and AI chatbots in silos. People expect these automated assistants to be fully integrated with business systems, and to have access to the data that enables their issue to be resolved.
The majority (58%) think it's important for digital assistants to remember details about previous conversations they have had with a brand or business when they get in touch again, whether that's on the same channel as before or on a new channel. 67% of consumers expect digital assistants to have access to all the information that's relevant to their query.
Digital identity verification is seen positively by those who use it
Digital identity verification is still in its early stages. Half of consumers have used it for basic tasks such as unlocking a mobile phone, but this falls to 20% for opening a bank account, and 10% for making a large- scale purchase.
That said, consumers who have used digital identity verification seem to see it as a positive, perhaps preferring its flexibility and autonomy over human-led processes. An impressive 69% of those who have used digital identity verification found it improved their experience, rising to 79% for those who have used it for unlocking a banking or finance app.
Younger people, in particular, trust it for high-security actions, with over half of 25-34 year-olds preferring to open a bank account using digital identity verification than face-to-face or paper verification.
58%
think it's important for digital assistants to remember details about previous conversations
69%
of those have used digital identity verification found it improved their experience
Analysis - Company View
Companies are exploring new tools and systems that combine the best of human interaction and sophisticated technology
This combined approach can improve the customer experience by delivering support more quickly, while also having a better understanding of customer issues and complaints. It should also help to cut expenditure on customer service operations, as automated tools can respond to queries at scale with virtually no additional marginal cost per query.
Digital identity verification tools are a vital part of this approach, allowing businesses to streamline interactions by quickly verifying a customer's identity before their query is dealt with. These tools can also speed up processes such as setting up accounts, with digital identity verification allowing customers to open bank accounts in minutes rather than days. Not only do these systems improve the customer experience, they can reduce operational costs associated with Know Your Customer (KYC) compliance and enable banks and financial service providers to deliver seamless services remotely and at scale.
It is, however, early days. Although almost two-thirds of businesses have adopted AI for customer service, over half of those have done so in a way that is not fully connected across channels.
And there are still some obstacles to AI adoption and implementation. When we asked businesses who have not yet adopted AI for customer service what is standing in their way, 56% state they prefer to deliver human-led customer service. But there are also some technological concerns, with 38% saying their technology stack is not yet prepared for the integration of AI systems.
The degree of integration varies among those who have adopted AI for customer service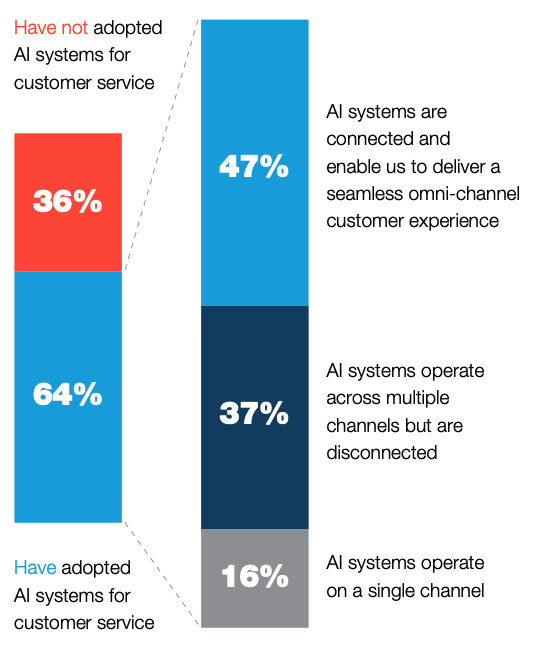 AI adoption for customer support also varies significantly between different businesses, depending on the size of the organization and the sector within which they operate.
Larger organizations are almost twice as likely to have adopted AI systems for customer service, compared to smaller organizations. Not surprisingly, organizations who have higher adoption see greater benefit across customer support, in terms of streamlining operations and delivering enhanced customer service, as well as in refining products and services.
Larger organizations are almost twice as likely to have adopted AI systems for customer service, and are much more likely to see the benefits
Similarly, there is variation by sector in the perceived value of AI for customer service. Two-thirds (66%) of retail businesses believe AI systems, like digital assistants and chatbots, enable them to respond to customer support requests more rapidly. And 69% believe these systems enable them to better understand customer issues and complaints.
But the value of AI is not just limited to customer service. Digital identity verification is already helping businesses deliver a more seamless experience for their customers. According to our survey, 65% of businesses agree it helps them deliver a more seamless user experience than manual identity verification. This viewpoint is particularly prevalent in the finance sector where 75% of financial service businesses agree it both helps them onboard customers more rapidly and helps them deliver more seamless experiences for their customers.
Businesses are already seeing the value of these solutions and expect them to become more widely adopted in the next five years. In fact, 70% of large businesses think these solutions will be widely adopted across industries in the next five years.
Where next?
Businesses have an exciting opportunity to capitalize on these technologies to deliver what customers want: a seamless, cross-channel customer experience that extends from finding the right product or service to receiving exceptional customer support
While many organizations have already implemented chatbots and digital assistants for customer service and support, we are only just scratching the surface of what advances in AI will enable. The future of seamless customer service will combine the best of human-led and automated systems to deliver exactly what the customer wants, when they want it.
Imagine contacting your bank about a possible loan and beginning your interaction with an AI assistant. After a few simple questions and a digital identity verification, the assistant can offer the best options currently available to you.
Because you've authenticated your identity, these options can be based on your actual financial circumstances rather than a hypothetical situation, making it more likely your ultimate application will be successful.
At any point you can choose to be transferred to a human advisor, who will have access to all the information and context the AI has already collected. The AI assistant can continue to monitor the conversation, providing the operator with additional information or even new offers based on its real- time interpretation of the interaction. You can then be passed back to the AI assistant to complete the loan application process quickly and easily using the information already collected.
As businesses continue to refine their systems and processes, we will see customer service and support evolve to a world where human and digital assistants work together, channeled toward the types of support they are best suited to.
This will likely mean smaller customer support centers, built around high performing and well-trained individuals, with the more mundane tasks carried out quickly and effectively by digital assistants. Humans and AI will support each other, with the AI learning from human interactions, but also supporting advisors with information like customer history, intent, predicted next steps, and even special offers.
Customer service and support in this world will be always-on, channel agnostic, personalized, and proactive. AI assistants will have access to detailed, actionable customer insights built from interactions across physical and digital channels, making them well suited for life in the metaverse.
References
Sources
theinformation.com. Apple's mixed reality headset to offer iris scanning for payments, logging in.
onfido.com. Check, mobility-as-a-service-provider, case study.